5 New Models Set for Launching in 2014 "roomist" Humidifier Lineup
-- Joining 4 Hybrid Evaporative Warm-Mist Models Introduced Earlier -
Tokyo, September 2, 2014 - Starting this month Mitsubishi Heavy Industries Air-Conditioning & Thermal Systems Corporation, a group company of Mitsubishi Heavy Industries, Ltd. (MHI), will begin progressively introducing five new fan-powered steam type models into its 2014 domestic lineup of "roomist" humidifiers. The company will also continue to offer its previously launched four hybrid evaporative warm-mist models. In addition to humidifying, all nine models feature "double plasma bacteria removal" functions: one suppresses viruses and airborne bacteria through the release of plasma ions, and the other uses a special filter to capture bacteria and mold.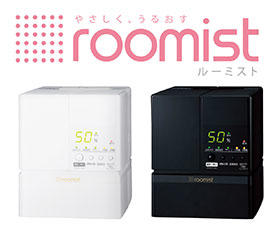 The new fan-powered steam type models accommodate a broad spectrum of space humidification requirements. Capacities range from 350 to 1,200 milliliters per hour (ml/h). As MHI's fan-powered steam humidifiers adopt a proprietary system in which vaporization is achieved simply by heating the water absorbed by the vaporization cloth, there is no worry of possible scalding even in the unlikely event the unit were to topple over, and cleaning is simple. The system kicks in swiftly after only approximately 1 minute after operation start; and because the water is filtered by the vaporization cloth and the steam is sterilized at high temperature, the system is remarkably clean. With this system, humidifying capacity is unaffected by temperature or humidity, and dependable moisturizing is provided even in low-temperature ambient environments normally difficult to humidify. The humidifiers are possible to set to the "ECO" operating mode, in which humidifying capacity is curbed.

The hybrid evaporative warm-mist humidifiers integrate two systems: a vaporizing system in which a moist humidifier filter is fanned to induce humidification, and a warm-mist vaporizing system in which a moist humidifier filter is placed in a warm air current to induce humidification. When humidity is low, humidification is swiftly achieved by warm-mist vaporization; then, when the preset humidity level is reached, the unit switches to vaporization mode and adjusts the amount of humidification. As changeover between the two modes is automatically carried out depending on the humidity level, unnecessary electricity costs can be significantly curbed. When the unit is set to "ECO" operating mode, the heater is shut off and power consumption is reduced by roughly 90% compared to during normal operation.

All models are equipped with a function enabling sequential operation with MHI's SRK-SR room air-conditioners. Employing a humidity sensor on the air-conditioning unit, infrared signals (ON/OFF) are sent to the humidifier, to maintain the preset humidity level. A light-emitting diode (LED) display is provided on the front panel that maintains green illumination during normal operation and flashes red when water replenishment or cleaning is required.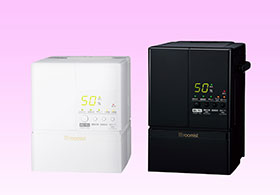 Fan-powered steam humidifiers: SHE35LD-W (left) and SHE60LD-K (right)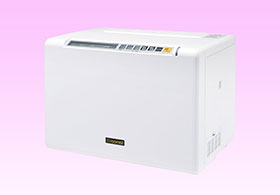 Fan-powered steam humidifier: SHE120LD-W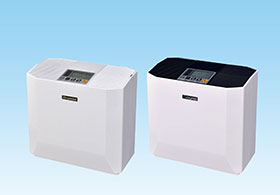 Hybrid evaporative warm-mist humidifiers: SHK50KRA-W (left) and SHK50KRA-K(right)
Hybrid evaporative warm-mist humidifiers: SHK70KRA-W and SHK90KRA-K
---
About MHI Group
Mitsubishi Heavy Industries (MHI) Group is one of the world's leading industrial groups, spanning energy, smart infrastructure, industrial machinery, aerospace and defense. MHI Group combines cutting-edge technology with deep experience to deliver innovative, integrated solutions that help to realize a carbon neutral world, improve the quality of life and ensure a safer world. For more information, please visit www.mhi.com or follow our insights and stories on spectra.mhi.com.