MHI Receives Order for Three Automated People Mover (APM) Systems at Orlando International Airport
Tokyo, July 17, 2014 -- Mitsubishi Heavy Industries, Ltd. (MHI), with the cooperation of Sumitomo Corporation, has received an order to design, build, operate, and maintain three separate Automated People Mover (APM) systems at the Orlando International Airport (OIA) in Orlando, Florida, to be completed in 2018. With this fifth order, MHI will have seven Airport APM systems in the United States.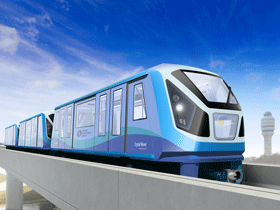 The order was placed by the Greater Orlando Aviation Authority (GOAA) through Mitsubishi Heavy Industries America, Inc. (MHIA), a wholly owned subsidiary of MHI. MHIA is responsible for implementing the three systems, which includes the supply and construction of a new, approximately 2.3 kilometer long APM system connecting the main airport terminal and the South Airport APM Complex - a multi-modal transportation hub – as well as the replacement of two existing 600-meter long APM systems connecting the main airport terminal to Airside Terminals 1 and 3. In total, MHI will be supplying 18 new train cars. The Airside Terminals 1 and 3 APMs were originally built in 1981, and MHI will replace these while minimizing any inconvenience to passengers, similar to its successful replacement of the original APM system at Changi Airport in Singapore.

The contract also includes five years of system operations and maintenance after the construction is completed, with two additional five-year options, which will be performed by the Florida-headquartered joint venture of MHIA and Sumitomo Corporation- Crystal Mover Services, Inc.

Orlando is a rapidly growing industrial, healthcare, and technology hub, with a well-developed tourism base and the construction of these three APM systems will support the expanding needs of the region. In addition, the South Airport APM Complex will serve as a regional station for the intercity "All Aboard Florida" rail system, which will be implemented in the near future.

Mitsubishi Heavy Industries is the largest APM supplier in the world, having been selected to supply nearly 900 APM cars to date. Since 1981, Mitsubishi has delivered sixteen APM systems with an additional two large scale urban metro APMs under implementation, including the Macau Light Rapid Transit APM system - the single largest APM order in the industry. MHI's driverless, fully automated trains are the most advanced available, providing the highest levels of reliability, safety, and performance. The trains are equipped with rubber tires, resulting in smooth and quiet eco-friendly operation.

Mitsubishi's award-winning APM systems are in operation at several of the world's largest and top-ranked airports, including Changi International Airport (Singapore), Incheon International Airport (South Korea), Hong Kong International Airport, Dubai International Airport, Hartsfield-Jackson Atlanta International Airport, Washington Dulles International Airport, and Miami International Airport, as well as in numerous urban applications. Furthermore, Mitsubishi Heavy Industries received an order for 108 new cars for the Yurikamome Waterfront APM system in Tokyo in 2010 (which are currently being delivered), 158 cars for the Macau Light Rapid Transit APM, and an order for an additional 16 cars and system upgrades for the Senkang-Punggol APM system in Singapore in 2013.

In addition to the new APM market, MHI is focusing on expansion, upgrades, and replacements to existing lines at numerous projects on a global scale. Building upon this record of success, Mitsubishi Heavy Industries remains at the forefront of supplying reliable, safe, and innovative transportation systems that will continue to drive the worldwide market and contribute to a more sustainable future.
---
About MHI Group
Mitsubishi Heavy Industries (MHI) Group is one of the world's leading industrial groups, spanning energy, smart infrastructure, industrial machinery, aerospace and defense. MHI Group combines cutting-edge technology with deep experience to deliver innovative, integrated solutions that help to realize a carbon neutral world, improve the quality of life and ensure a safer world. For more information, please visit www.mhi.com or follow our insights and stories on spectra.mhi.com.