MHI to Exhibit Gear Grinding Machine and Double-column 5-Face Milling Machine at "EMTE-EASTPO 2014" in Shanghai
-- Proposing Diverse Machine Tool Solutions for Machine Manufacturers In China's Eastern Coastal Region --
Tokyo July 9, 2014 - Mitsubishi Heavy Industries, Ltd. (MHI) will exhibit a number of its machine tools at "EMTE-EASTPO 2014" Shanghai International Machine Tool Fair to be held in Shanghai, China, for four days from July 14 through 17. The MHI exhibit will feature a gear grinding machine and a double-column 5-face milling machine which is manufactured at the company's local machine tool plant in Changshu, Jiangsu Province.
China is the world's largest machine tool market. In 2013 automobile production and sales both topped 20 million units for the first time, and these expansionary trends are expected to continue into the future. In the country's coastal region especially, demand is increasing for greater production efficiency and higher precision at manufacturing sites of all kinds in order to cope with rising labor costs and other pressures. MHI's exhibits at this year's EMTE-EASTPO have been selected in response to these needs, focusing on tools that provide comprehensive capabilities in gear production and capacity to machine large-size parts efficiently.

MHI Exhibits:
- "ZE24B" gear grinding machine
- "MVR30" double-column 5-face milling machine
- Cutting tools for gear machining, machined workpiece samples

ZE24B Gear Grinding Machine
Gear grinding machines are used to finish gears following the quenching process. MHI's ZE24B accommodates gears with outer diameters up to 240 millimeters (mm). Its outstanding speed and precision, coupled with short tooling change time, enable enhanced productivity in the manufacture of high-precision gears used in applications such as automotive transmission systems. MHI will propose the ZE24B gear grinding machine in combination with a gear hobbing machine and gear shaper, which are produced locally in China, as a production system configuration that can handle all tasks from rough machining (gear cutting) through finishing.

MVR30 Double-column 5-Face Milling Machine
The MVR30 has capacity to perform powerful machining at high speed and precision. It can accommodate workpieces loadable on worktables up to 2,000mm in width and 6,000mm in length. A full lineup is offered to meet a wide range of needs for large parts, including industrial and construction machinery and automotive metal molds, as well as semiconductor production equipment.

"EMTE-EASTPO 2014" Shanghai International Machine Tool Fair
EASTPO, an annual event launched in 1999, is one of the largest machine tool fairs in China ranked with the China International Machine Tool Show (CIMT) in Beijing, which has been held every two years since 1989. EASTPO attracts numerous visitors from the automobile, construction machinery and industrial machinery industries which are clustered in eastern China, especially the city of Shanghai and Jiangsu and Zhejiang provinces. From this year, EASTPO and EMTE (European Machine Tool Exhibition) are jointly held as EMTE-EASTPO, which will take place at the Shanghai New International Expo Center (SNIEC).

Changshu Plant
The Changshu Plant, operated under a "shared factory" scheme, launched operations in 2011 with the production of gear hobbing machines; subsequently operations have been expanded in variety and models to include gear shapers and double-column 5-face milling machines. In July cumulative shipments of gear cutting machines are expected to reach 100 units. Plans also call for further strengthening of the Changshu Plant to enable it to provide products, quality and services on par with those on offer in Japan. Within the current fiscal year, production of shaving machines will be added and line-based gear production employing automated conveyors will get under way.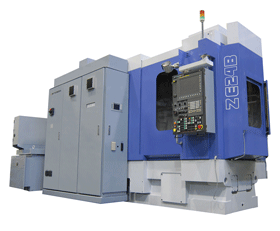 Gear grinding machine ZE24B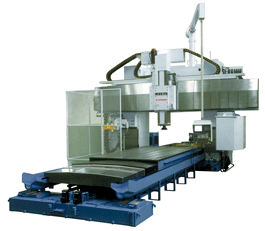 Double-column,5-face milling machine MVR series
Product Page
---
About MHI Group
Mitsubishi Heavy Industries (MHI) Group is one of the world's leading industrial groups, spanning energy, smart infrastructure, industrial machinery, aerospace and defense. MHI Group combines cutting-edge technology with deep experience to deliver innovative, integrated solutions that help to realize a carbon neutral world, improve the quality of life and ensure a safer world. For more information, please visit www.mhi.com or follow our insights and stories on spectra.mhi.com.