Mitsubishi Minatomirai Industrial Museum to Host "Children's Summer Science Festival" Together with Yokohama Port Museum
- Wide-ranging Programs for Learning Enjoyably about our World, From the Deep Sea to Outer Space -
Tokyo, July 7, 2014 - From July 19 (Sat) through August 31 (Sun) the Mitsubishi Minatomirai Industrial Museum will host a "Children's Summer Science Festival." Through a variety of innovative programs, the festival - an annual event timed to coincide with the school summer holiday - aims to have children experience firsthand how fun science and technology can be and the enjoyment and pleasure they can derive from making things. Participants will also be able to take part in an ongoing "stamp rally."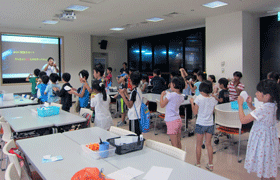 Continuing a feature launched previously, visitors will be encouraged to become "deep sea experts" by visiting not only the Mitsubishi Minatomirai Industrial Museum but also the Yokohama Port Museum, site of the sail training ship NIPPON MARU. Conducted with cooperation from the Japan Agency for Marine-Earth Science and Technology (JAMSTEC), the exhibitions at the two museums will offer visitors of all ages an opportunity to learn enjoyably about the ocean's depths and its unusual life forms.

As its part in this joint undertaking, the Mitsubishi Minatomirai Industrial Museum will devote its "Minatomirai Oceanic Research Center" in the Ocean Zone to exhibits relating to Japan's Shinkai 6500 manned submersible research vessel, the Urashima deep-sea cruising probe, and the Chikyu riser drilling vessel. Exhibits will provide an introduction to the valuable data and specimens collected by these deep-sea vessels.

A number of classes will also be held in tandem with the festival. On August 7 (Thu) and 8 (Fri), a "Deep Sea Paper Craft Class" will be held where participants will learn how to construct paper models of an octopus and other creatures while watching video presentations about deep-sea forms of life. On August 22 (Fri), an "Ocean Class" will offer a presentation about deep-sea exploration, and an experiment about water pressure will also be conducted. (For details, please visit the museum website or mobile site at the addresses given below.)
At the Yokohama Port Museum ( http://www.nippon-maru.or.jp ), in addition to an exhibition of the NIPPON MARU sail training ship visitors will be offered an introduction to the many wonders to be found lurking in the deep sea.
On August 10 (Sun) "Cosmic College 2014," an aerospace event that was very popular last year, will take place. This program, which is jointly conducted with the Japan Aerospace Exploration Agency (JAXA), is targeted at younger elementary school students. Participants will learn enjoyably about the tests used to select astronauts, about the food, clothing and living situations in space, and about the moon. (Advance application required: please visit the museum website or mobile site for details.)
A number of programs have been specially designed to be useful to students in carrying out their summer school projects. "Science & Magic Class" will teach scientific principles with the fun of magic; "Science Video Presentation" will teach about astronomy using enjoyable explanations and amazing computer graphics; the "Science Experiments" program will touch on the surprises and mysteries of science; and the "Craftwork Class" will get participants to think scientifically while experiencing the traditional Japanese art of paper marbling. Students will also be given opportunities to stroll with wakamaru, a communication robot developed by MHI, and to attend "wakamaru Science Class."
The Mitsubishi Minatomirai Industrial Museum was opened in Yokohama in June 1994 to promote exchanges with the local community and to foster interest in science and technology. The museum uses actual machinery and equipment, scale models, video presentations and explanatory panels to present easy-to-understand introductions to MHI's state-of-the-art technologies and products. Exhibits are divided into six zones: Environment/Energy, Aerospace, Ocean, Transportation, Daily Life Discovery and Technology Quest. The museum celebrated its 20th anniversary in June 2014, and to date it has welcomed more than 2 million visitors.
Outline of Mitsubishi Minatomirai Industrial Museum
Location:
Mitsubishijuko Yokohama Building,
3-1, Minatomirai 3-chome, Nishi-ku,
Yokohama 220-8401
Telephone:
+81-45-200-7351
Access:
3-minute walk from Minatomirai Station on the Minatomirai Subway Line;
8-minute walk from Sakuragicho Station on the JR Negishi Line or Yokohama Subway Line
Open hours:
10:00 a.m. to 5:00 p.m. (admission until 4:30 p.m.)
Closed days:
Tuesdays (Wednesday, when Tuesday is a national holiday)
*The museum will open on Tuesday, August 26.
Admission fee:
500 yen for adults
300 yen for junior and senior high school students
200 yen for elementary school students
100 yen discount per person for groups of 20 or more people
Admission is free for elementary school, junior and senior high school and university field trip visits, provided a reservation is made at least three days in advance of the visit.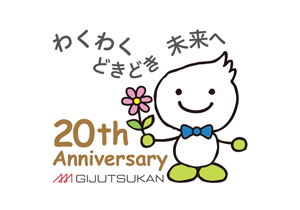 ---
About MHI Group
Mitsubishi Heavy Industries (MHI) Group is one of the world's leading industrial groups, spanning energy, smart infrastructure, industrial machinery, aerospace and defense. MHI Group combines cutting-edge technology with deep experience to deliver innovative, integrated solutions that help to realize a carbon neutral world, improve the quality of life and ensure a safer world. For more information, please visit www.mhi.com or follow our insights and stories on spectra.mhi.com.