MHI to Establish "Distributed Power Business Development Department"
-- Move Designed to Enhance Package Solutions Capability Involving Diverse Distributed Power Systems -
Tokyo, June 4, 2014 - Effective July 1, Mitsubishi Heavy Industries, Ltd. (MHI) will establish a new "Distributed Power Business Development Department" within its Energy & Environment business domain to oversee business relating to small and medium-size power systems and equipment. The new department will integrate the company's distributed power business operations currently straddling two domains: Energy & Environment and Machinery, Equipment & Infrastructure. Its creation will enable MHI to shift its business model for distributed power systems from individual product sales to marketing and provision of solution packages, including servicing, matching market's diverse needs. In the medium term and beyond, the company is targeting related business scale in excess of 300 billion yen.
As the market for distributed power systems continues to expand on global scale, MHI has opted to create the new Distributed Power Business Development Department as a way of bringing together and manifesting the company's comprehensive in-house capabilities in this area, with the aim of dynamically developing new commercial territory. The new department will oversee the following products: from the Energy & Environment domain, gas turbines derived from aircraft engines, heavy-duty small-size gas turbines, Organic Rankine Cycle (ORC) turbines* and energy storage systems (ESS); and from the Machinery, Equipment & Infrastructure domain, reciprocating (diesel/gas) engines, district heating and cooling systems (large-scale centrifugal chillers), etc.

Until now MHI has pursued business in power generation systems centered on high-end, large-capacity offerings. More recently, however, the company has added new products in small and medium-size distributed power systems through new M&As and business integration. As a result the company can now supply a more diversified lineup of products.

Gas turbines based on aircraft engines and ORC turbines were added to the product lineup as an outgrowth of the acquisitions of Pratt & Whitney Power Systems (PWPS) and Turboden s.r.l. in 2013. The lineup of heavy-duty small-size gas turbines was further enhanced as a result of the merger of MHI's business in thermal power generation systems with that of Hitachi, Ltd. Other areas of business to be handled by the new department are MHI's pre-existing business fields, and although these all have solid track records, the company saw a need to create a new comprehensive organization to further strengthen MHI's response capability in package type solutions for projects involving regional development, etc.

Because the new department will require management capability enabling oversight of multiple business areas, it will launch with representatives in charge of sales, technology, etc. for each product area. Sales operations will be carried out taking advantage of MHI's existing global networks, and cooperative relationships with trading houses, etc. will also be maintained and developed. When necessary, liaison will also be undertaken with business development departments, etc. within the Energy & Environment domain that are already in the process of developing distributed power system markets in specific countries or regions. Hiromichi Morimoto, Senior Vice President and Senior General Manager, Business Division of Energy & Environment, will simultaneously serve as Director of the new department.

The creation of the new Distributed Power Business Development Department will now enable MHI to offer highly competitive package solutions in distributed power systems. While responding precisely to the market's diverse needs, the company looks to aggressively develop this growth market.

* ORC turbines employ an organic medium with a low boiling point. They are adaptable to heat sources including biomass, geothermal and solar energy, etc.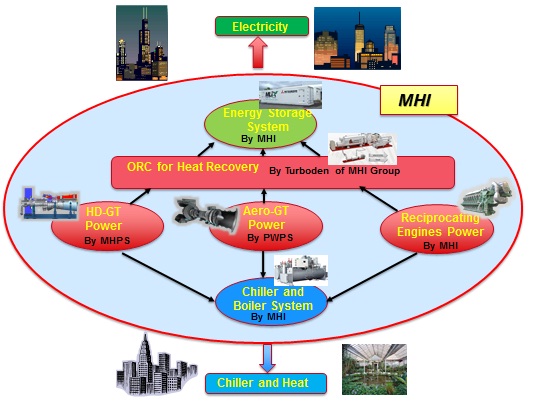 ---
About MHI Group
Mitsubishi Heavy Industries (MHI) Group is one of the world's leading industrial groups, spanning energy, smart infrastructure, industrial machinery, aerospace and defense. MHI Group combines cutting-edge technology with deep experience to deliver innovative, integrated solutions that help to realize a carbon neutral world, improve the quality of life and ensure a safer world. For more information, please visit www.mhi.com or follow our insights and stories on spectra.mhi.com.