MHI Delivers Cargo-passenger Ship "Tachibana-Maru" to Tokai Kisen At its Shimonoseki Shipyard and Machinery Works
- Outstanding Energy Savings, Environmental Load Reduction, and Enhancement of Passenger Comfort and Safety Achieved -
Tokyo, June 4, 2014 - On June 4 Mitsubishi Heavy Industries, Ltd. (MHI) delivered the cargo-passenger ship "Tachibana-Maru" to Tokai Kisen Co., Ltd. at its Shimonoseki Shipyard and Machinery Works. The vessel is a "super eco-ship" with a high-efficiency propulsion system that achieves outstanding energy savings, environmental load reduction, and enhanced passenger comfort and safety. The ship also features a fresh new color scheme of yellow ocher and olive green designed by Ryohei Yanagihara, a well-known Japanese illustrator who is also an honorary captain at Tokai Kisen.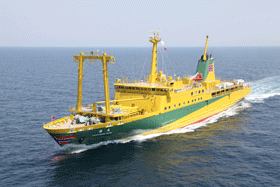 The cargo-passenger ship measures 118.0 meters (m) in length overall (LOA), 17.0m in width, and 8.95m in height (5.40m in draft). The 5,681 gross tonnage vessel has a service speed of 19.0 knots per hour (about 35.2km/hour). MHI began construction of the ship in March 2013 and launched it in November of the same year. The ship will be put into service on the route between Tokyo and the Izu Islands on June 27, 2014.

The ship employs a tandem-hybrid contra-rotating propeller (CRP) propulsion system developed by MHI. The system is comprised of single-shaft propulsion propellers driven by low-speed marine diesel engine and electric-drive azimuth propulsion propellers that enable the direction of propulsion power to be freely changed. In comparison to conventional twin-shaft propulsion systems, the new system enables less appendages for propulsion systems such as skegs, shaft brackets and rudders and reduces water resistance, and improves energy-saving efficiency by allowing the use of only fuel-efficient low-speed diesel power in bays and channels where slower navigation speeds are required.

The new propulsion system enables the Tachibana-Maru to achieve 15.6% higher fuel efficiency than the "Salvia-Maru," a cargo-passenger ship built by MHI and currently in service at Tokai Kisen. In addition, the use of an electronically controlled fuel injection system enables the main low-speed marine diesel engine to achieve higher combustion efficiency, thereby ensuring that the Tachibana-Maru emits less carbon dioxide (CO2) and nitrogen oxides (NOx). The ship is also equipped with a system that utilizes exhaust gas thermal energy more efficiently.

The propulsion system's ability to deliver required power using only a single-shaft configuration, with the load shared between a single diesel engine and an electric drive system, ensures higher passenger comfort by reducing both noise and vibration. In addition, the electric-drive azimuth propulsion system can be used as a stern thruster in combination with the bow thruster to enhance safety and swiftness when approaching or departing the pier.

MHI is making eco-ships with enhanced energy-saving and environmental performance capability a key product focus of its efforts in the shipbuilding and ocean development business sector. Gaining momentum from construction of the Tachibana-Maru with epoch-making high environmental performance, the company aims to further strengthen its proposal-based marketing activities in the sector and continue development of various echo-ship related technologies.
---
About MHI Group
Mitsubishi Heavy Industries (MHI) Group is one of the world's leading industrial groups, spanning energy, smart infrastructure, industrial machinery, aerospace and defense. MHI Group combines cutting-edge technology with deep experience to deliver innovative, integrated solutions that help to realize a carbon neutral world, improve the quality of life and ensure a safer world. For more information, please visit www.mhi.com or follow our insights and stories on spectra.mhi.com.