Mitsubishi Minatomirai Industrial Museum to Celebrate 20th Anniversary, Conduct Variety of Special Events and Employ Anniversary Logo
Tokyo, May 26, 2014 - On June 1 Mitsubishi Minatomirai Industrial Museum will mark the 20th anniversary of its establishment. To celebrate this anniversary, the museum will conduct a variety of events at the museum on the day, and introduce special anniversary logos to commemorate the year. The anniversary events will include scientific experiments to further stimulate children's interest in science and technology. A number of other events are also planned for the coming year.
Two new logo designs are being introduced to commemorate the museum's 20-year anniversary. Both feature "Techno-kun," the museum's mascot character, and the new museum logo adopted in April of last year, accompanied by the words "20th Anniversary." Main logo also celebrates children's blossoming interest in science and technology with the copy line "Toward a thrilling and exciting future" and a new illustration of "Techno-kun" holding a flower.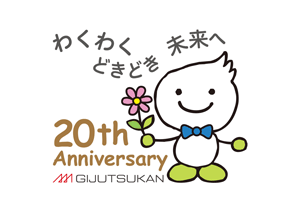 [Main Logo]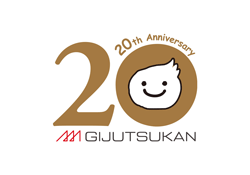 [Sub Logo]
The anniversary scientific experiments will deal with four themes aimed at elementary school students — low-temperature, vacuum, water pressure, and buoyancy — and will be presented at different times during the day. The low-temperature experiment, which is being presented for the first time at the museum, will demonstrate what happens to flowers and rubber balls when they are dipped into ultra-low-temperature liquid nitrogen. The program also explains about liquid fuel used for rocket engines. Children viewing the experiments will also be able to participate in rock-paper-scissors matches with "Techno-kun" and museum guides.

A special "Mission Lab" event will also be held on the day of the anniversary at the Space Project in the "Trial Square" zone that offers visitors a hands-on 3D design and printing experience involving a futuristic vehicle for mining operations on the lunar surface. In the Mission Lab event, up to 12 visitors will work together as a team to design a DODECATRON mining vehicle that will then be output on a 3D printer in special limited-edition gold or silver colors to commemorate the anniversary. Paper crafting of "Techno-kun" masks and other events will also be held to mark the day.

To celebrate both the museum's anniversary and the anniversary of the opening of Yokohama Port, which is June 2, students of high school age and younger will be admitted to the museum free of charge from May 31 (Sat) through June 2 (Mon).
Outline of Mitsubishi Minatomirai Industrial Museum
Location:
Mitsubishijuko Yokohama Building,
3-1, Minatomirai 3-chome, Nishi-ku,
Yokohama 220-8401
Telephone:
+81-45-200-7351
Access:
3-minute walk from Minatomirai Station on the Minatomirai Subway Line;
8-minute walk from Sakuragicho Station on the JR Negishi Line or Yokohama Subway Line
Open hours:
10:00 a.m. to 5:00 p.m. (admission until 4:30 p.m.)
Closed days:
Tuesdays (Wednesday, when Tuesday is a national holiday)
Admission fee:
500 yen for adults
300 yen for junior and senior high school students
200 yen for elementary school students
100 yen discount per person for groups of 20 or more people
Admission is free for elementary school, junior and senior high school and university field trip visits, provided a reservation is made at least three days in advance of the visit.
---
About MHI Group
Mitsubishi Heavy Industries (MHI) Group is one of the world's leading industrial groups, spanning energy, smart infrastructure, industrial machinery, aerospace and defense. MHI Group combines cutting-edge technology with deep experience to deliver innovative, integrated solutions that help to realize a carbon neutral world, improve the quality of life and ensure a safer world. For more information, please visit www.mhi.com or follow our insights and stories on spectra.mhi.com.