MHI-PPM Receives Order for 20 Box Making Machines From U.S. Packaging Materials Manufacturer RockTenn
-- Two Orders for Corrugating Machinery also Received from Korea --
Tokyo, May 22, 2014 - Mitsubishi Heavy Industries Printing & Packaging Machinery, Ltd. (MHI-PPM), a group company of Mitsubishi Heavy Industries, Ltd. (MHI), has received an order for 20 corrugated box making machines from Rock-Tenn Company (RockTenn), a leading North American integrated producer of packaging materials. Almost simultaneously MHI-PPM also took orders from two Korean manufacturers for 1 box making machine and 2 corrugating machinery for producing corrugated board. As demand for corrugated board packaging increases worldwide, inquiries concerning MHI-PPM's corrugated board production systems are brisk, and these latest orders reflect the company's growing reputation as a manufacturer of products of world-class quality and productivity.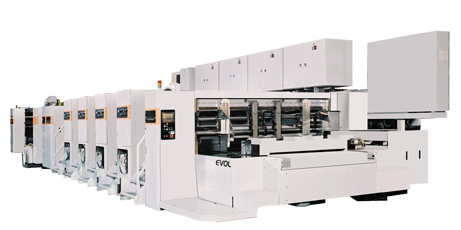 The order from RockTenn is for 20 units of the EVOL 4FGR-100 Flexo Folder Gluer. Featuring a maximum speed of 350 boxes per minute - one of the fastest speeds available worldwide - the EVOL 4FGR-100 can produce beautifully finished corrugated boxes of diverse sizes, with a wide range of print options, from corrugated board. Outstanding productivity has been realized through a host of proprietary technologies and innovative ideas. One example is a new ink changing system, provided standard, that substantially reduces ink changing time and loss and uses less washing water. Shipments of the 20 units on order are scheduled to commence this October and continue until April 2016.

RockTenn manufactures and markets corrugated board and paperboard packaging materials. The company's Head Office is located in Norcross, Georgia. Besides bases in the U.S., RockTenn has manufacturing bases in Canada, Mexico, Chile, Argentina and China. Employees number approximately 26,000. MHI-PPM has already delivered a total of 10 units of the EVOL 4FGR-100 to RockTenn, a track record that contributed to the placement of the latest order.

Of the two new orders received from Korea, both from packaging materials manufacturers, one was for 1 unit of the EVOL 4FGR-100 and 1 unit of the SH-400-2500 corrugating machinery; the other too was for 1 unit of the SH-400-2500. The SH-400-2500 can manufacture corrugated board at a maximum speed of 400 meters per minute.

As production of corrugated board increases steadily on global scale, demand is solid for new or replacement corrugating machinery and box making machines. Especially popular are machines that are capable of manufacturing diverse product types in automated mode without loss of quality, and machines that excel in terms of energy efficiency, environmental compatibility, minimal waste and outstanding operating speed. It is these features that are attracting successive orders, including bulk orders, for the EVOL 4FGR-100 and SH-400-2500.

Going forward MHI-PPM, by further developing its technologies and business infrastructure, will continue focusing on the development of products delivering even higher performance and on the provision of broad-ranging solutions in both the domestic and global markets.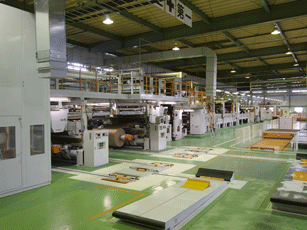 box making machine
---