MHI to Establish Joint Venture with Siemens In Steel and Metal Production Machinery Business
-- Move Aimed at Achieving Full Product Lineup Supply Capability And Accelerating Global Development of Steel and Metal Production Machinery Business --
Tokyo, May 7, 2014 - Today Mitsubishi Heavy Industries, Ltd. (MHI) concluded an agreement with Siemens AG of Germany calling for the establishment of a joint-venture company (JV) in steel and metal production machinery effective as of January 2015 subject to regulatory approvals. The move has two aims: expansion of the product line in the steel and metal production machinery business and acceleration of globalization. The JV will swiftly take steps to put in place a structure enabling the provision of a full lineup of products involved in everything from upstream to downstream processes, and to build a business network that will span the entire globe, in a quest to provide more valuable products and services to customers in the worldwide steel and metal production machinery market.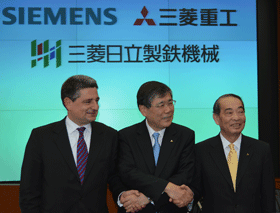 The new JV will be established in the United Kingdom integrating Mitsubishi-Hitachi Metals Machinery, Inc. (MH) - an MHI consolidated group company with equity participation by Hitachi, Ltd. and IHI Corporation - and Siemens MT Business, Siemens group companies undertaking metals production in countries including Germany, Austria and the U.S. Equity ownership shares in the new venture will be 51% for MH and 49% for Siemens. The JV's CEO is currently being selected.


Under the current plan, the new JV will operate six regional bases in Japan (Tokyo/Hiroshima), Austria (Linz), Germany (Erlangen), the U.S. (Pittsburgh), China (Shanghai) and India (Mumbai) enabling worldwide coverage. Business units for each product line will be based respectively in Tokyo/Hiroshima, Linz or Erlangen, and other existing business bases of MH and Siemens will operate under Tokyo/Hiroshima or Linz based on product line responsibility. The U.K. Headquarters will manage the regional bases, including respective business units, and will hold a cross division function in charge of sales/marketing, customer management, procurement, manufacturing, R&D planning, etc. to support each business location. The new JV will operate with a collective staff of approximately 9,000 employees.


In October 2013 MH, which had been initially launched in October 2000 as a joint venture of MHI and Hitachi, completed an integration with IHI Metaltech Co., Ltd. in the area of rolling mills. MH thereby acquired capabilities in product areas from continuous casting, hot and cold rolling, and bar steel rolling to downstream continuous annealing and galvanizing equipment. Now, through the JV with Siemens, MH will add upstream blast furnaces and electric furnaces to its product portfolio, significantly enhancing its ability to supply products for all metals production processes through expanding the product line.

MH and Siemens also complement each other substantially with respect to geographic areas in which they excel, a factor that will now enable acceleration of worldwide business expansion including Asia, Europe, Russia, the Americas, Africa, etc. Also, by pursuing synergy merits from MH's knowhow in project management and Siemens's abundant expertise in product servicing as integrated mechanical / electrical supplier, expansion of business opportunities will be sought.

Going forward, the global iron and steel industry, beset by adverse factors including overcapacity, increasing material costs and declining product prices, is projected to continue exercising restraint toward new capital investments. Against this backdrop, the agreement on the new JV was achieved on the back of the meshing of the two partners' respective aims: MHI and the Japan side looking to strengthen their business through enhancement of product offerings and the development of a global network of business bases, and Siemens eager to improve its steel and metal production machinery business structure as it undertakes a review of its business portfolio.

MHI and Siemens will both work closely with the new JV and offer their full support to its business development.
---