Sixteen Barrier-free Passenger Boarding Bridges Delivered by MHI-TES Go Into Service at Tokyo International (Haneda) Airport
-- Installed in Newly Opened Area of International Passenger Terminal --
Tokyo, April 11, 2014 - Sixteen barrier-free passenger boarding bridges (PBB) delivered by Mitsubishi Heavy Industries Transportation Equipment Engineering & Service Co., Ltd. (MHI-TES), a group company of Mitsubishi Heavy Industries, Ltd. (MHI), have gone into service in the International Passenger Terminal of Tokyo International (Haneda) Airport operated by Tokyo International Air Terminal Corporation (TIAT). The PBBs, introduced in a new area that began operation at the International Passenger Terminal, which is currently undergoing expansion, are the world's first bridges to feature a completely flat, barrier-free floor in the tunnel corridor that connects the airport building to a stationed aircraft. At present a total of 37 advanced PBBs supplied by MHI-TES are being operated at the International Passenger Terminal, including 21 units delivered in October 2010 when the terminal commenced operation.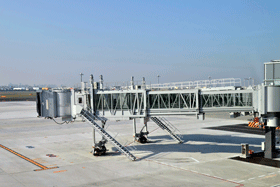 Conventional PBBs have featured inner and outer tunnel corridors that extend and retract by sliding action - a configuration that results in uneven floor levels that required installation of a ramp, long considered an unavoidable obstacle to a completely flat surface. This problem has been eliminated in the newly developed PBBs through the adoption of a skid conveyor structure in the floor sections of the inner and outer tunnel corridors. In addition, the side grooves for rainwater conventionally located on both sides inside the outer tunnel have been totally removed, enabling the realization of a completely barrier-free space permitting smooth and safe mobility even for passengers using a wheelchair.

The newly delivered PBBs have been installed in pairs at 8 parking spots located in the satellite area newly constructed extending the north side of the current International Passenger Terminal. As of March 30, when operations in the extension zone were launched, the terminal now has a total of 18 parking spots and 9 bus gates (5 newly added). The number of international flight departures and arrivals has been increased some 50 percent to approximately 80 per day. The barrier-free PBBs are now in full operation for use by boarding and deplaning passengers.

MHI-TES performs servicing of MHI transportation systems sold in both the domestic and overseas markets. It also undertakes all aspects from design and manufacture to marketing and after-sale servicing of transportation equipment and other machinery and equipment. PBBs are one of the company's core products. Collectively, 53 barrier-free PBBs of MHI-TES are being operated at Haneda Airport, including 16 units at the Domestic Terminal.

Leveraging delivery of the 16 units to the newly opened zone of Tokyo International (Haneda) Airport, a topic receiving wide media coverage, going forward MHI-TES will pursue expanded sales of barrier-free PBBs for use in airports both in Japan and around the world.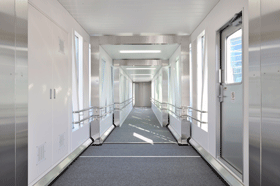 Completely flat floor
Exterior of barrier-free PBB
---
About MHI Group
Mitsubishi Heavy Industries (MHI) Group is one of the world's leading industrial groups, spanning energy, smart infrastructure, industrial machinery, aerospace and defense. MHI Group combines cutting-edge technology with deep experience to deliver innovative, integrated solutions that help to realize a carbon neutral world, improve the quality of life and ensure a safer world. For more information, please visit www.mhi.com or follow our insights and stories on spectra.mhi.com.