MHI Holds Ceremony Welcoming New Employees for 2014
-- President Miyanaga Offers Words of Advice and Encouragement --
Tokyo, April 1, 2014 - Mitsubishi Heavy Industries, Ltd. (MHI) held a ceremony this morning at Shinagawa Intercity Hall in Tokyo to formally welcome new employees joining the company this year. President Shunichi Miyanaga addressed the new recruits, fresh out of university and about to begin new lives as productive members of society, both as head of one of Japan's leading manufacturing companies and, on a more personal level, as an experienced participant in society. He indicated how they should prepare themselves to serve as MHI employees and, with words of encouragement, expressed his high hopes and strong expectations for their future achievements.
Mr. Miyanaga began by presenting an overview of MHI. He related how the company traces its origins to 1870, the year when Yataro Iwasaki founded a firm known as Tsukumo Shokai. Company operations got under way on full scale, however, in 1884 with the establishment of the Nagasaki Shipyard & Machinery Works. In the 130 years since then, MHI, together with its more than 300 group companies in Japan and abroad, has consistently carried out its firmly embraced mission to contribute to global development through the manufacture of a wealth of outstanding products to support social and industrial infrastructures. Among forthcoming products still in the pipeline, Mr. Miyanaga spoke of the MRJ – the Mitsubishi Regional Jet, an aircraft that is garnering significant attention as Japan's first passenger jet, scheduled to undertake its maiden flight next year. Japan's aircraft industry has long sought to enter the commercial aircraft business, handling all aspects from start to finish; and Mr. Miyanaga described how the MHI Group is strongly cognizant of the scale of its role in that grand mission. Today every effort is being directed into the assembly of the first MRJ aircraft.
The President next shifted focus to explaining how the MHI Group today is pursuing new strategies and initiatives outside its conventional framework in order to achieve sustained development at a time when the business environment is undergoing dramatic changes in tandem with the globalization of economic and social systems. Among the company's new endeavors is a program of management process reforms. Representative reforms include a shift to business operations conducted under a system of individual business units with clearly defined responsibilities and authority, and portfolio operations targeting overall well-balanced growth to come from the adoption of uniform evaluation and management of each business unit's achievements. Representative of the company's new organizational reforms is MHI's consolidation and reorganization of its earlier nine business segments into four new business domains: Energy & Environment; Machinery, Equipment & Infrastructure; Commercial Aviation & Transportation Systems; and Integrated Defense & Space Systems. Within these newly enlarged categories, preferential allocations of personnel, capital, etc. will be carried out in a drive to mark optimal growth. Another major change is a newly adopted growth policy that calls for MHI, rather than relying only on its own strengths, to collaborate with other companies and acquire other businesses. The star achievement in this respect is the establishment this February of Mitsubishi Hitachi Power Systems, Ltd., a joint venture with Hitachi, Ltd. in the area of thermal power generation systems. The two parent companies took the bold step of spinning off these core operations in a joint quest to become a world-leading company in this field.

Mr. Miyanaga next spoke of MHI's sense of values. He introduced the new recruits to the company's Corporate Identity statement: "Our Technologies, Your Tomorrow." "These words reflect our strong aspiration to be a company that continuously contributes to the realization of a sustainable society on global scale through corporate activities of global scale focused on the Earth's environment," he told them. And he described how MHI, as a manufacturing firm, seeks to use its technological capabilities to solve the many issues the world currently faces, in order to make people's dreams and wishes come true in exciting ways.

Next, the President introduced his new employees to MHI's corporate creed, which consists of three commitments. The first is: "We strongly believe that the customer comes first and that we are obligated to be an innovative partner to society." In this regard, Mr. Miyanaga said that all MHI employees should take pride in, and gain fulfillment from, responding to customers' needs and contributing to social progress. Second: "We base our activities on honesty, harmony, and a clear distinction between public and private life." In this context, the President emphasized the company's commitment to proactively carry out its social responsibilities by pursuing greater transparency in its business operations and adhering strictly to rules of compliance. Third: "We shall strive for innovative management and technological development from an international perspective." Here, Mr. Miyanaga said that the MHI Group's mission is to continuously strive to maintain its management and technological strengths at the world's highest levels, to help Japan be a technologically driven nation; and he added that now, more than ever, is the time for all employees to work together to put this commitment into practice.

Finally, the President described how the new employees should prepare themselves for taking up their new jobs. To begin, he encouraged them to be good members of the company and good members of society worthy of global respect. By devoting their energies to their work and always being attentive to the customer and fellow workers, Mr. Miyanaga offered, their worlds would expand and grow more profound. He also exhorted them to continue studying English so that they can communicate with people around the world. Second, Mr. Miyanaga encouraged the new recruits to become professionals of astute depth. He said that true professionals have a deep understanding of their work and perform their duties faithfully and with attention to detail – factors that, once they become routine, enable the ongoing acquisition of experience as their jobs become increasingly more profound, expansive and complex. The President further encouraged his new charges, besides acquiring special knowledge, to enhance their leadership capabilities, to become professionals who are trusted and respected. Lastly, Mr. Miyanaga advised the new recruits to pursue healthy lives in both body and mind. By paying attention to both of these aspects of life, the President exhorted them to seek out well-balanced professional lives.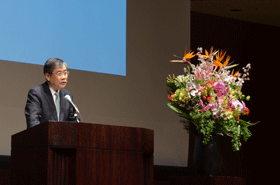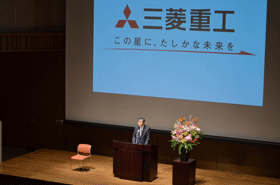 President Shunichi Miyanaga welcomes new employees at the ceremony.
---
About MHI Group
Mitsubishi Heavy Industries (MHI) Group is one of the world's leading industrial groups, spanning energy, smart infrastructure, industrial machinery, aerospace and defense. MHI Group combines cutting-edge technology with deep experience to deliver innovative, integrated solutions that help to realize a carbon neutral world, improve the quality of life and ensure a safer world. For more information, please visit www.mhi.com or follow our insights and stories on spectra.mhi.com.