MHI to Launch New Models of Multi-split Inverter System Air Conditioners for Building Applications, Targeting Overseas Markets
Tokyo, March 6, 2014 - Starting in June, Mitsubishi Heavy Industries, Ltd. (MHI) will progressively launch the new "KXZ Series," multi-split inverter system air conditioners for applications in office buildings and other large-scale facilities, targeting overseas markets. The new series achieves higher energy-saving capability through enhanced efficiency and diversified operational controls. The addition will expand the company's product lineup and also improve its basic performance.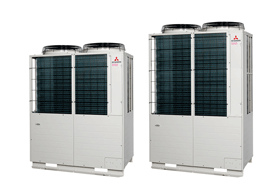 The power output capacities of KXZ Series will be 10–20 horsepower (HP) with single units and up to 60HP by combining up to three units.

The new series will retain the basic configuration of current models, which have established a solid position in the market for their robust reliability. They will adopt improved heat exchangers and newly developed compressors to achieve even higher efficiency. Concentrated winding motors*1 equipped in the new compressors enable a reduction in power loss in the motor coils. The adoption of a multi-discharge port system for the compressor scroll mechanism suppresses power loss caused by excessive compression and thereby achieves energy-saving benefits especially in the seasonal efficiency rating.

As a result of these various improvements, the KXZ Series achieves near 40% higher cooling efficiency (EER)*2 and about 8% greater heating efficiency (COP)*3 than the current model (in case of 24HP).

The basic performance of the KXZ Series has also been enhanced, offering a broader operation temperature range than current models. Cooling range of operation is now up to 46°C DB (dry bulb temperature) instead of 43°C DB and to cope with installation demands in tall buildings, the new models can also accommodate greater height differences between the indoor and outdoor units by expanding the limitation length from 50 meters (m) with current models to 70m (when installing outdoor units above indoor units).

The new KXZ series also promotes further energy savings by optimizing the supplied capacity based on the actual heat demand from each room. This newly developed capacity controlling method provides both energy saving and comfort to individual rooms and users (patent pending).

MHI will continue development of products that are easy to operate and enable energy savings in the area of air conditioners for light commercial usage and air-conditioning systems for building applications in a quest to further expand its air conditioner business.
Notes:
*1. Concentrated winding motors are installed in the 10, 12, 18 and 20HP outdoor units.
*2. Energy efficiency ratio (EER): an indicator of performance calculated by dividing rated cooling capacity (kW) by electricity consumption (kW). The higher the EER value, the higher is the level of energy-saving efficiency.
*3. Coefficient of performance (COP): the ratio of a system's useful energy output versus the system's energy input. Similar to EER, in the case of heating, COP value is calculated by dividing heating capacity (kW) by electricity consumption (kW). The higher a system's COP, the higher is its energy-saving efficiency.

---
About MHI Group
Mitsubishi Heavy Industries (MHI) Group is one of the world's leading industrial groups, spanning energy, smart infrastructure, industrial machinery, aerospace and defense. MHI Group combines cutting-edge technology with deep experience to deliver innovative, integrated solutions that help to realize a carbon neutral world, improve the quality of life and ensure a safer world. For more information, please visit www.mhi.com or follow our insights and stories on spectra.mhi.com.