MHI to Supply Electric Bus to Satsumasendai City in Kyushu
-- To Go into Service as Municipal Shuttle Bus Contributing to Creation of an Energy-Efficient, Low-Carbon City --
Tokyo, February 26, 2014 - Mitsubishi Heavy Industries, Ltd. (MHI) will supply an electric bus to the city of Satsumasendai in Kagoshima Prefecture, Kyushu. The bus is a full-size, low-floor model that operates on MHI's high-performance "MLiX" lithium-ion rechargeable battery enabling a dramatic increase in continuous travel distance. The new bus will go into service in the city's regular route network starting in April.
Satsumasendai is introducing the electric bus as part of the city's initiative to make use of next-generation energy resources based on the comprehensive municipal vision and action plan. The bus will operate as a shuttle bus between Sendai Station and a high-speed ferry terminal, Sendai Port, and will play a significant role in enhancing the environmental compatibility of the local transportation network and tourist infrastructure. The city also considers using the electric bus as a power supply source in an emergency.

The bus exterior and part of interior were designed by a famous industrial design company, Don Design Associates (Managing Director: Mr. Eiji Mitooka). The blue and white exterior color concept reminds the beautiful sea surrounding Koshiki Island, where the high-speed ferry will ply. The exterior design will also include a Chinese character of "Koshiki."

The "MLiX" lithium-ion rechargeable battery featured in the newly ordered electric bus combines a lightweight, compact design with outstanding reliability and long service life. It has already amassed a significant track record through its widespread adoption in cargo container-type energy storage systems, hybrid forklifts and other advanced products developed and marketed by MHI.

The supply to Satsumasendai follows the recent order of two electric buses to Kitakyushu city planning Zero Emissions Transportation System. MHI's abundant track record of electric buses both in Japan and overseas and low-carbon related demonstrations has now succeeded in commercial supply of electric bus.

From February 26 to 28, MHI will exhibit at the 4th International Smart Grid Expo at Tokyo Big Sight showing a model of the electric bus and make presentations of smart community world though MHI technology. Going forward, MHI will strive to achieve such communities ever more aggressively through increased adoption of electric buses.
 The exterior design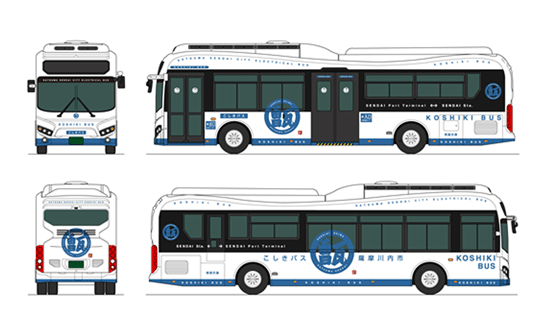 Item

Specification

Boarding design

Low-floor stepless access

Usage

Full-size route bus

Passenger capacity

72 persons

Body dimensions

Length

11.065m

Width

2.495m

Height

3.475m

Vehicle weight

11,250kg

Maximum speed

85km/h

Maximum travel distance
per battery charge

80km*

Drive motor

Type

3-phase asynchronous AC induction motor

Maximum output

240kW

Manufacturer

Mitsubishi Heavy Industries

Specifications

DC 621.6V / 150Ah / 93.24kWh

Commercial SOC***

10% - 90%

Cooling system

Air-cooled

Front
---