MHI to Launch 2 Fully Remodeled Series of Air-conditioning System for Window Perimeters Installation in Building Applications
-- 2 New Series Offer Industry's Top Energy Performance --
Tokyo, January 30, 2014 - In February Mitsubishi Heavy Industries, Ltd. (MHI) has fully remodeled two series in its lineup of "BILAC System" air-conditioning units for installations around windows, where in particular environmental load tends to be high. MHI will begin accepting orders for remolded series for Japanese market in March. The new offerings achieve the industry's highest energy performance and enhanced utilization ease and visibility, enabling connectivity of the system to the latest remote control units. In these and other ways, the new system will respond to a wide variety of user needs, either new or replacement installation.
The BILAC System, functioning like an air curtain, provides air-conditioning of the perimeter zone around windows, areas that are affected by outside factors such as the radiation heat of sun's rays during cooling and cold air during heating. The system also complements air-conditioning of the room's central zone and helps enhance overall energy-saving performance by lowering operation rate of air-conditioners for central zone. The new lineup consists of 32 models in two series: ACW (Air-conditioner Curtain Wall) and WT (Wall Through), each encompassing 16 models.

ACW Series units come in high-function and standard types, eight models each. High-function models feature a ventilation operation function complied with public health regulations in building management and an outside-air cooling function for cooling during in-between seasons (early summer and early spring) to improve energy efficiency. Newly introduced eight standard models have simpler functions, by eliminating some functions from high-function models, such as exhaust function.

To achieve high-efficiency, both ACW and WT Series newly adopted high-performance twin rotary compressors and direct current (DC) fan motor. As a result, the ACW and WT Series respectively achieve APF* values of 4.7 and 5.1 (both 2.5-kilowatt class), a significant 30% improvements over earlier offerings.

Operating and viewing ease have both been substantially enhanced by realizing connectivity with an "eco-touch" remote control unit, which has already been highly evaluated in the market. As to intake/exhaust damper, which is effective in case of fire and other events, high-function models of ACW Series and WT Series respectively have electrically-operated damper and stationary type damper as standard equipment. For standard type units of ACW Series, stationary type damper is available as an option item.

In ACW Series, replacement installation ease has been secured by keeping the unit width of ACW Series models within 2 meters (m), also enabling shortening of work period and lowering of cost for working.

Going forward, MHI will continue to pursue expansion of business in air-conditioning systems through development of new products that satisfy the market's demand for systems that offer superlative energy performance, operating ease and replacement compatibility.

* Annual performance factor: an indicator of performance calculated by dividing the total capacity necessary to cool and heat for an entire year by the amount of energy consumed by the cooling/heating system (under the condition provided by JRA4048:2006). The higher the APF value, the higher is the level of energy efficiency.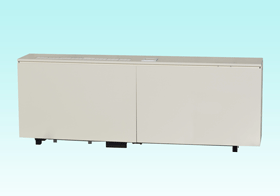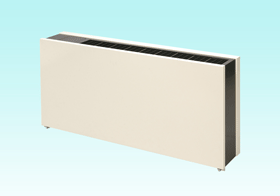 BILAC ACW (Air-conditioner Curtain Wall)                 BILAC WT (Wall Through)
---
About MHI Group
Mitsubishi Heavy Industries (MHI) Group is one of the world's leading industrial groups, spanning energy, smart infrastructure, industrial machinery, aerospace and defense. MHI Group combines cutting-edge technology with deep experience to deliver innovative, integrated solutions that help to realize a carbon neutral world, improve the quality of life and ensure a safer world. For more information, please visit www.mhi.com or follow our insights and stories on spectra.mhi.com.