MHI to Supply First J-Series Gas Turbine in the US to the Grand River Dam Authority of Oklahoma
Tokyo, January 29, 2014 - Mitsubishi Heavy Industries, Ltd. (MHI) was selected by Grand River Dam Authority (GRDA), Oklahoma's state-owned electric utility, to supply an M501J gas turbine for GRDA's Chouteau power station. This is the first U.S. order for a J-Series gas turbine. Gas turbine is the core component of a gas turbine combined cycle (GTCC) power generation system. Gaining momentum from high evaluation of the market on J-Series gas turbine, going forward MHI will further accelerate marketing activities of this state-of-the-art J-Series gas turbine in the U.S. and other countries.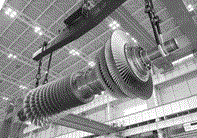 The core component to be ordered will be supplied through Mitsubishi Power Systems Americas, Inc. (MPSA), MHI's wholly owned subsidiary for power systems business in the U.S. The 495 megawatt (MW) GTCC plant to be built at the facility in Chouteau, about 56 kilometers east of Tulsa, the second largest city in Oklahoma, will help GRDA meet new emissions regulations by reducing its dependence on coal-fired power generation. The new GTCC plant is scheduled to become operational in March 2017.

The GTCC power plant components to be supplied to GRDA include an M501J gas turbine, an SRT-50 steam turbine and a generator. The gas turbine will be manufactured at Savannah Machinery Works in Savannah, Georgia, which is MHI's manufacturing base in the U.S. The generator will be supplied by Mitsubishi Electric Corporation. A separate long-term service agreement (LTSA), which includes maintenance of the plant, replacement parts supply and remote monitoring after the plant operation commencement, is planned to be signed.

The J-Series is the state-of-the-art gas turbine developed by MHI in 2009, incorporating the company's proprietary technologies. The total number of J-Series gas turbine order reaches 28 units, when supply to GRDA is included. Currently nine J-Series gas turbines are in operation, which accumulated operation has already exceeded 28,000 hours collectively.

GRDA, established in 1935, is Oklahoma's state-owned electric utility, which operates seven power stations with collective power generation capacity of 1,730MW, including gas-fired and hydro power generation. It serves nearly 500,000 homes in Oklahoma, stretching across 75 of 77 counties in the state. GRDA is also responsible for Grand River development and management, as well as sales of electricity and water.

GTCC power plants generate electricity in two stages through the combined use of gas and steam turbines. By using high-temperature exhaust from the gas turbine to produce steam that drives the steam turbine, combined cycle power plants achieve higher thermal efficiency, lower fuel consumption, and lower emissions.

MHI has already delivered many GTCC power generation systems in Japan and other countries, and enjoys a solid reputation for its technological expertise and delivery track record. Going forward, MHI looks to further strengthen its marketing activities for GTCC power generation systems and components.
---
About MHI Group
Mitsubishi Heavy Industries (MHI) Group is one of the world's leading industrial groups, spanning energy, smart infrastructure, industrial machinery, aerospace and defense. MHI Group combines cutting-edge technology with deep experience to deliver innovative, integrated solutions that help to realize a carbon neutral world, improve the quality of life and ensure a safer world. For more information, please visit www.mhi.com or follow our insights and stories on spectra.mhi.com.