MHI to Launch "R-LXR4 Series," Cooling/Heating Free Multi-split System Air-Conditioners for System Replacements in Building Applications
-- Outstanding Energy Efficiency and Installation Ease;Existing Refrigerant Piping Reusable --
Tokyo, January 20, 2014 - Mitsubishi Heavy Industries, Ltd. (MHI) has developed new models for "Cooling/Heating Free HyperMulti LXR4 Series" of multi-split system air-conditioners for office buildings and other large-scale installations in Japanese market. Dubbed the "R-LXR4 Series," the new models are exclusively engineered for system replacement applications, with existing refrigerant piping reusable. MHI will begin accepting orders for new models in March. In addition to enabling outstanding energy performance through enhanced efficiency, the new models also boost ease of installation. These and other features will make the new R-LXR4 Series offerings responsive to a wide range of system replacement needs.
The HyperMulti R-LXR4 Series consists of 12 power output capacity variations, using outdoor units individually or in combination, covering 8 - 14 horsepower (HP) range by single unit and 16 - 30 HP by combination of two units.

For high-efficiency response, the new models feature compressors adopting concentrated winding motors. As power loss in the motor coils is reduced, significant energy savings (approx. half the rated capacity) is achieved in the intermediate performance range. In addition, adoption of the multiport structure for compressor scroll mechanism has enabled to optimize pressure balance of compressor during compression process and to achieve higher efficiency.

Responding to the needs of air-conditioning system scale expansion together with replacement, the length of refrigerant piping to the most distant indoor unit has been extended to 160 meters (m), and the total piping length to 510m. To cope with installation needs in tall buildings, which increasing becoming popular in urban central area, the new models are capable to accommodate 50m vertical interval between outer and inner units, and 18m between inner units.

Through the adoption of center-opening double doors for the electric component box, access to board and post-installation maintenance services are easier to perform.

MHI will continue development activities of high-value-added products superior in environmentally friendliness, such as R-LXR4 Series, to respond to needs of air-conditioner market. In these ways, the company aims to contribute to enhancing the quality of everyday living.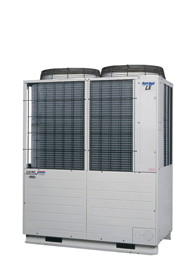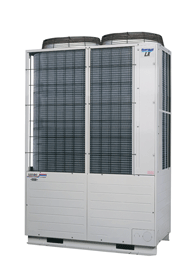 Outdoor units of R-LXR4 Series
(left: small size, right: large size)
---
About MHI Group
Mitsubishi Heavy Industries (MHI) Group is one of the world's leading industrial groups, spanning energy, smart infrastructure, industrial machinery, aerospace and defense. MHI Group combines cutting-edge technology with deep experience to deliver innovative, integrated solutions that help to realize a carbon neutral world, improve the quality of life and ensure a safer world. For more information, please visit www.mhi.com or follow our insights and stories on spectra.mhi.com.