MHI-PPM Receives Order for "DIAMONDSPACE" Newspaper Offset Press From Kumamoto Nichinichi Shimbun
Tokyo, January 8, 2014 - Mitsubishi Heavy Industries Printing & Packaging Machinery, Ltd. (MHI-PPM), a group company of Mitsubishi Heavy Industries, Ltd. (MHI) based in Mihara City in Hiroshima Prefecture, has received an order for the "DIAMONDSPACE" newspaper offset press from Kumamoto Nichinichi Shimbun Co., Ltd. With its introduction, the newspaper is expecting to enhance its print quality and improve operational productivity. The new press is scheduled to go into operation in spring 2015.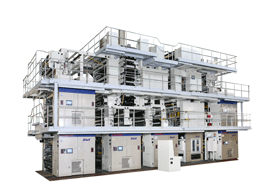 The DIAMONDSPACE can print newspapers up to 75,000 copies per hour at a maximum of 40 pages (24 in color). The adoption of a shaftless drive system, which controls the press by electrically synchronizing all the drive motors without mechanical shafts, enables shorter make ready time than with earlier presses. The DIAMONDSPACE also incorporates many newly developed improvements in terms of reducing energy consumption, paper waste and noise, thus lessening running costs while simultaneously contributing to a more pleasant operating environment.

MHI completed its first delivery of newspaper offset presses to Kumamoto Nichinichi Shimbun in 1992. Of the two presses delivered at that time, one was replaced in 2002. The other is now to be replaced by the newly ordered DIAMONDSPACE.

Kumamoto Nichinichi Shimbun Co., Ltd. was founded in 1942 through a merger of Kyushu Nichinichi Shimbun Co., Ltd. and Kyushu Shimbun Co., Ltd. Its current circulation is approximately 330,000 copies. The company has a well-established reputation as one of Japan's most technologically advanced newspaper, famous for its beautiful print quality as well as for its outstanding productivity. It opted for an upgrade to the DIAMONDSPACE in recognition of MHI's excellent track record in newspaper offset presses. The newly ordered press also accommodates the Kumamoto Nichinichi's special advanced requirements and marks the amalgamation of MHI-PPM's technological capabilities.

Leveraging the latest order, MHI-PPM intends to focus further on solution-providing marketing in order to respond to diversifying customer needs and thereby increase order receipts in both the domestic and global markets.
---