MHI Receives Follow-up Order for 48 More Cars For the Macau Light Rapid Transit System
-- Fully Automated, Driverless Mass Transportation System Runs on Rubber Tires for a Smooth and Quiet Ride --
Tokyo, January 6, 2014 - Mitsubishi Heavy Industries, Ltd. (MHI), in collaboration with ITOCHU Corporation, has concluded an agreement with the Transportation Infrastructure Office (GIT) of Macau to supply an additional 48 cars for the Macau Light Rapid Transit (MLRT) system now being constructed under an initiative of the government of the Macau Special Administrative Region (MSAR) of the People's Republic of China. The order follows a previous order received in March 2011 for 110 cars and machinery and electronics systems for the MLRT.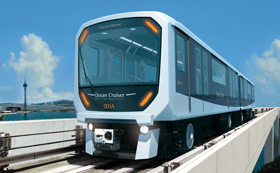 The MLRT is an automated people mover (APM) – a fully automated, driverless mass transit system operating on rubber tires – planned to run between Macau's Taipa Island and the Border Gate crossing to Zhuhai City in Guangdong Province, a distance of approximately 21 kilometers (km).

The newly received order calls for MHI to provide 48 additional cars as well as additional depot equipment to maintain them; it also includes vehicle maintenance services up to a maximum 10 years. MHI attributes the new order primarily to the smooth execution of the APM project since the signing of the initial agreement in March 2011, and to the GIT's high evaluation of the company's cars themselves.

Macau is presently enjoying steadily increasing numbers of visitors attracted by its tourist sights and casinos. Meanwhile, infrastructure projects are going forward in line with integrated development of the entire Pearl Delta Region: the area encompassing Macau, Hong Kong and Guangdong Province. GIT placed the new order for additional APM cars to meet future development and demand in anticipation of robust passenger volume – higher than initially projected – after the new system goes onstream.

The APM is a fully automated, driverless transportation system that, through the adoption of rubber tires, provides passengers a remarkably smooth and quiet ride. Besides the 158 APM cars now on order for the MLRT, MHI boasts a strong track record in orders for other urban transportation systems as well, including 108 new cars for the Yurikamome Waterfront Line in Tokyo awarded in 2010 and 57 cars (including 16 newly ordered in 2013) for the Sengkang/Punggol Lines in Singapore. MHI has also established a firm position as one of the world's leaders in the global APM market, with deliveries having been completed of systems for airports in the United States, Hong Kong, Singapore, Korea and the UAE.

On the strength of this latest order, MHI aims to further boost its marketing activities for APM systems going forward - not only for new transportation networks, but also for expansion and/or replacement of existing transportation systems worldwide.
---