MHI Employees Win Gold, Silver and Bronze Medals In Construction Steel Work Category at 51st National Skills Competition
-- 15 Winners in All, Including Silver and Bronze in Welding --
Tokyo, November 28, 2013 - Yusuke Shiomoto (20), an employee of Mitsubishi Heavy Industries, Ltd. (MHI) who works at the Kobe Shipyard & Machinery Works in the Energy & Environment business domain, has won the gold medal in the Construction Steel Work category at the 51st National Skills Competition held at Makuhari Messe in Chiba and other venues from November 16 to 25. MHI participated in five categories this year: Construction Steel Work, Welding, Mechanical Device Assembly, Mechatronics and Turning. In the Construction Steel Work category, besides Mr. Shiomoto's gold medal three other company employees also finished with medals: Ryosuke Fujiwara (21) – silver medal, and Genki Kuroda (20) of the Takasago Machinery Works and Yasutaka Mimura (19) of Kobe Shipyard & Machinery Works, (also in the Energy & Environment business domain), who respectively captured the bronze medals. Two medals were also garnered by MHI employees in the Welding category: silver by Kazuhisa Fujita (21) of the Kobe Shipyard & Machinery Works and bronze by Kenta Namba (22) of the Takasago Machinery Works. Including various "Fighting Spirit Awards," 15 MHI employees captured awards at the competition.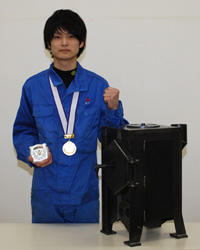 Construction steel work involves the creation of a structure availing of such processes as marking, cutting, bending, welding and assembly, with the worker performing these tasks according to the specific structure's intended purpose and shape, the properties of the material, etc. These various skills are necessary in a wide variety of fields ranging from building and plant constructions to shipbuilding, nuclear power and even aerospace, and an extremely high level of precision is demanded in every finished product. Welding in particular is a skill necessary for MHI's diverse manufacturing pursuits.

In July, Daisuke Yamashita (22), an employee at the Kobe Shipyard & Machinery Works (Energy & Environment business domain), won the silver medal in the Construction Metal Work category at the 42nd WorldSkills Competition (WSC) in Leipzig, Germany.

The National Skills Competition is an annual event in which young professionals compete to win distinction as leaders in various skill categories. Besides providing these workers of the next generation with an incentive to strive, the competition also gives young skilled workers in the region where the event is held an opportunity to see truly outstanding skills. In these ways the National Skills Competition highlights the importance and necessity of being skilled, as a way of fostering respect for skills and for those who master them.

Going forward, through participation in the national and world skills competitions MHI will continue to devote efforts to developing and passing skills on to young workers engaged in manufacturing.
---
About MHI Group
Mitsubishi Heavy Industries (MHI) Group is one of the world's leading industrial groups, spanning energy, smart infrastructure, industrial machinery, aerospace and defense. MHI Group combines cutting-edge technology with deep experience to deliver innovative, integrated solutions that help to realize a carbon neutral world, improve the quality of life and ensure a safer world. For more information, please visit www.mhi.com or follow our insights and stories on spectra.mhi.com.