MHI to Transfer Motor Grader Business to HIDROMEK,
A Leading Construction Machinery Manufacturer in Turkey
Tokyo, November 18, 2013 - Mitsubishi Heavy Industries, Ltd. (MHI) has agreed with HIDROMEK-HIDROLIK VE MEKANIK MAKINA IMALAT SANAYI VE TICARET ANONIM SIRKETI (HIDROMEK), a leading manufacturer of construction machinery based in Ankara, Turkey, to transfer its motor grader business to the Turkish company. The agreement culminates the meshing of the interests of both parties: MHI, which is seeking to focus on its core competencies in tandem with its shift to a domain-based operating structure; and HIDROMEK, which is looking to expand its business by enhancing its product lineup.
Under the agreement, HIDROMEK will purchase MHI's operations in motor graders, construction machinery used for land grading. The scope of the agreement includes MHI's related technologies, design expertise and servicing operations as well as ownership of MHI-Pornchai Machinery Co., Ltd., a production base in Thailand that has until now manufactured MHI's products for markets in the Middle East and Southeast Asia.

In transferring the Thai production base to HIDROMEK, MHI will transfer all shares to HIDROMEK.

Even after the transfer of operations, MHI will for a given period of time provide technical support and motor grader parts to HIDROMEK. Together with HIDROMEK, MHI will also, for a specified period, offer after-sale servicing support for both its domestic and overseas customers.

HIDROMEK is a construction machinery manufacturer holding the top share of Turkey's markets for backhoe loaders and hydraulic shovels. The company has four local production bases and a global network of sales agents in 35 nations. Net sales in 2012 equated to approximately US$342 million. The company has roughly 1,400 employees.

MHI had solidly maintained its operations in motor graders even after transferring its business in hydraulic shovels and other types of construction machinery to Caterpillar Inc. during the first quarter of 2012. Its decision to transfer its motor grader operations to HIDROMEK at this time was based on the company's quest to further advance concentration into its core competencies.

Going forward MHI will continue to accelerate investment of its management resources into core business areas expected to mark robust growth in the years ahead, aiming to make a dramatic leap to a company that is truly competitive in the global market.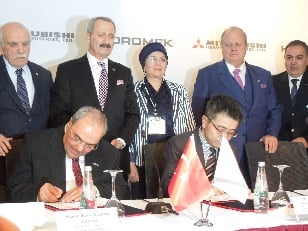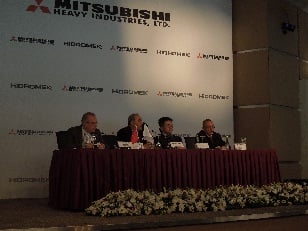 [MHI and HIDROMEK sign agreement]
---
About MHI Group
Mitsubishi Heavy Industries (MHI) Group is one of the world's leading industrial groups, spanning energy, smart infrastructure, industrial machinery, aerospace and defense. MHI Group combines cutting-edge technology with deep experience to deliver innovative, integrated solutions that help to realize a carbon neutral world, improve the quality of life and ensure a safer world. For more information, please visit www.mhi.com or follow our insights and stories on spectra.mhi.com.