MHI Holds Science Class in Hanoi to Teach Local Students The Principles behind Aircraft Flight
-- Part of Events Celebrating Friendship between Japan and Vietnam,Conducted at DOWACEN Japanese Language School --
Tokyo, November 18, 2013 - On November 17 Mitsubishi Heavy Industries, Ltd. (MHI) conducted a science class at the Dong Anh-Okinawa Economic and Cultural Exchange Center (DOWACEN), a Japanese language school in Hanoi, Vietnam. The class, for local children, was one of various events held jointly with DOWACEN to commemorate the 40th anniversary of the establishment of diplomatic relations between Japan and Vietnam. The students were given an opportunity to learn how aircraft are able to fly - in a fun way, by making paper airplanes. The class was part of MHI's CSR (corporate social responsibility) activities proactively undertaken in tandem with the company's accelerating expansion of global business operations.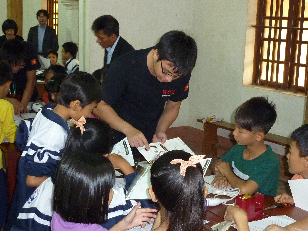 The class was conducted by 7 employees of MHI and MHI Aerospace Vietnam Co., Ltd. (MHIVA), a local subsidiary producing commercial aircraft components. Approximately 90 children participated. They were guided in the making of paper airplanes using a pattern in the design of the Mitsubishi Regional Jet (MRJ), Japan's first passenger jet, a test flight model of which is now in the final assembly stage. The children learned the principles behind air flight by experimenting with various wing shapes and matters such as balance and aerodynamic lift, progressively improving their paper airplanes until - at the end of the class - everyone flew their planes in a competition to see which would fly the farthest distance.

The science class was part of the "Japanese Culture Festival: Japan in my eyes" held to commemorate 40 years of friendship between Japan and Vietnam, hosted by DOWACEN with support from MHI and MHIVA. Besides the science class, the festival also included an exhibition of paintings about Japan or Japanese people made by the children, classes in origami (paper folding) and ikebana (flower arrangement), and a Japanese speech contest. Many people of all ages were on hand for the occasion.

DOWACEN was jointly established in 1997 by the Vietnam-Japan Friendship Association of Hanoi, the Okinawa-Vietnam Friendship Association and Okinawa-Vietnam Exchange Association Co., Ltd. It is situated close to the Thang Long Industrial Park (TLIP), where many Japanese companies, including MHIVA, have plants. DOWACEN undertakes human resources development through teaching of the Japanese language.

MHI established MHIVA in 2008 as Vietnam's first plant involved in the aircraft industry. Since then, every year the company has voluntarily held four courses and four workshops in aircraft design and manufacture at Hanoi University of Science and Technology (HUST) to support the education of tomorrow's engineers as a way of contributing to the development of Vietnam's aircraft industry. In 2010 MHI donated a solar power generation system to DOWACEN to ease power difficulties, and the company has also supported the local community by promoting local hiring by Japanese companies.

The recent science class was undertaken as an outgrowth of these earlier endeavors. MHI places great importance on supporting emerging and developing countries as befits a global corporation, in reflection of its CSR action program. Going forward the company will continue to undertake global initiatives, including science classes, to contribute to the areas overseas where it has bases of operation.

Experimentation of lift force using a hair dryer

---
About MHI Group
Mitsubishi Heavy Industries (MHI) Group is one of the world's leading industrial groups, spanning energy, smart infrastructure, industrial machinery, aerospace and defense. MHI Group combines cutting-edge technology with deep experience to deliver innovative, integrated solutions that help to realize a carbon neutral world, improve the quality of life and ensure a safer world. For more information, please visit www.mhi.com or follow our insights and stories on spectra.mhi.com.