MHI to Exhibit at 20th ITS World Congress Tokyo 2013
-- Exhibits to Include Advanced Navigation Service And Safe Driving Support System --
Tokyo, October 4, 2013 - Mitsubishi Heavy Industries, Ltd. (MHI) will be exhibiting at the "20th ITS World Congress Tokyo 2013" to be held simultaneously at the Tokyo International Forum and Tokyo Big Sight venues in Tokyo from October 14 through 18. The company's exhibits will center on an advanced navigation service based on newly upgraded onboard electronic toll collection (ETC) units, and onboard devices for a safe driving support system. MHI will also be giving an array of presentations introducing its abundant track record and technological capabilities in the intelligent transport systems (ITS) field.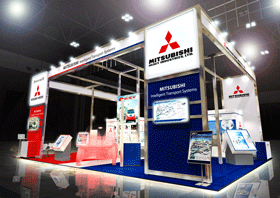 MHI's exhibits will broadly fall into two categories: onboard devices and probe data management systems. In onboard devices, the company will show ETC units for the domestic market, a safe driving support system, a cellular network/global navigation satellite system (CN/GNSS), and an electronic road pricing (ERP) unit accommodating both contact and non-contact type cards that was developed for use in Singapore. In the area of probe data management systems, MHI will exhibit a system incorporating a monitor that displays the collection status of probe data, i.e. vehicular information received from onboard instruments. Operational examples will also be introduced of the smart community demonstration project to put 200 electric vehicles (EV) on the road in Málaga, Spain, a project being carried out by MHI for the New Energy and Industrial Technology Development Organization (NEDO).

MHI is scheduled to present a total of eight papers at the Congress. Topics will include a traffic flow simulator for EVs and electric buses that responds to information on road grade, a low-cost billing system employing ID tags, and a smartphone-controlled ITS driving support system under development in collaboration with Mitsubishi Motors Corporation (MMC).

The ITS World Congress is the only global gathering dedicated to the topic of ITS. An annual event, it is convened on an alternating basis by three organizations representing three geographic regions: ERTICO-ITS Europe for the European zone, the Intelligent Transportation Society of America (ITS America) for the U.S., and ITS Japan for the Asia-Pacific region. The theme of the 20th ITS World Congress will be "Open ITS to the Next." Approximately 8,000 participants from more than 60 countries are expected to attend, and the program is scheduled to include presentations of some 1,000 papers and about 250 meetings.

MHI has been a leading manufacturer of toll collection systems for expressways, parking lots, etc. since its first delivery of a punch-card type multi-sector toll collection system for the Tomei and Chuo Expressways in 1967. Over the years the company has built up a solid record of deliveries both in Japan and abroad, and today, applying the technologies and experience cultivated through those achievements, it is actively involved in ITS, a core element of tomorrow's social infrastructure. Through participation as an active source of information at events such as the ITS World Congress, MHI looks to make ongoing contributions to the realization of increasingly safer transportation systems and more pleasant transportation environments with less traffic congestion.
---