MHI Receives Order for APM System Capacity Expansion
At Miami International Airport, Targeting Enhanced Passenger Convenience
Tokyo, September 26, 2013 – Mitsubishi Heavy Industries, Ltd. (MHI) has received an order for capacity expansion work, including the provision of four additional railway cars, for the automated people mover (APM) system in operation at Miami International Airport (MIA) in Miami, Florida. MHI will manufacture the cars in-house, with delivery scheduled for 2016.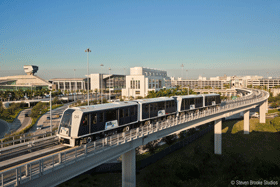 The order was placed by the Miami-Dade Aviation Department (MDAD) through Mitsubishi Heavy Industries America, Inc. (MHIA), a wholly owned MHI subsidiary. The APM system currently in operation at MIA, dubbed the MIA Mover, was ordered in 2008 and completed in 2011. It connects the airport with the Miami Intermodal Center (MIC), a multi-modal transportation hub, a distance of approximately 2 kilometers. MHIA is presently providing system operation and maintenance services under a five-year contract. The four new cars on order are identical to those now in operation.

Since shortly after its inauguration the MIA Mover has consistently attracted more passengers than initially projected, raising calls for necessary capacity expansion. The newly ordered expansion work will increase the number of cars from eight to twelve, significantly helping to relieve onboard congestion and thereby boosting passenger comfort and convenience.

The APM is a driverless, fully automated passenger transport system. Cars are equipped with rubber tires, resulting in smooth and quiet – and therefore eco-friendly – operation.

MHI today enjoys a leading position in the global APM market. In the United States, to date the company has delivered a total of four systems: besides the MIA Mover, it has also delivered APM systems for MIA's North Terminal, Washington Dulles International Airport and Hartsfield-Jackson Atlanta International Airport. It also boasts an abundant track record in Asia and the Middle East, having completed systems in Hong Kong, Singapore (Changi), Korea (Incheon) and the UAE (Dubai). In 2010 MHI received an order for 108 new cars for the Yurikamome Waterfront Line in Tokyo, followed in 2011 by a comprehensive order for the Macau Light Rapid Transit (LRT) system. MHI believes that this robust record in APM deliveries and operation, coupled with the outstanding reliability the systems have demonstrated, led to the company's winning of the latest order from MDAD.

This year MHI also received an order for capacity expansion work on the Sengkang and Punggol LRT lines in Singapore, including conversion to a two-car system. Leveraging that order as well as the latest order from MDAD, going forward MHI intends to become increasingly proactive in undertaking marketing activities targeting not only new APM systems but also extension and expansion work on existing systems worldwide.
---