MHIEC Receives Order for 240 Tons/day General Waste Incineration Facility
From Nagasaki Municipal Government
-- Award Includes 15-Year Plant Operation Contract --
Tokyo, September 24, 2013 – Mitsubishi Heavy Industries Environmental & Chemical Engineering Co., Ltd. (MHIEC), a wholly owned subsidiary of Mitsubishi Heavy Industries, Ltd. (MHI), has received an order from the municipal government of Nagasaki, in southwest Japan, to construct and operate a general waste incineration facility in the city. The project award calls for MHIEC to construct a stoker furnace1 type incineration plant with a processing capacity of 240 tons per day (tpd). The order, worth some 12.8 billion yen2 in total, also includes MHIEC's services in operating the facility for a period of 15 years. The plant is slated to go into operation in October 2016.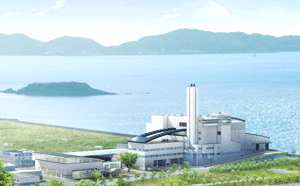 The Nagasaki project, formally known as the "New West Incineration Plant Construction and Operation Project," calls for a general waste incineration plant to be built in the Kaminoshima-machi district under a "DBO" (design, build and operate) scheme, i.e. an arrangement whereby a public organization funds and owns a facility but relegates DBO work to the commercial sector. The plant on order will consist of two 120 tpd stoker furnaces and will replace the outmoded West Incineration Plant that MHI originally designed and built, with a 400 tpd processing capacity, in the Kibachi-machi area of Nagasaki. That plant has been in operation since 1979.

Construction of the new facility will be conducted by a joint venture formed by MHIEC, Fujita Corporation and Nishinihon Ryoju Estate Co., Ltd., an MHI group company handling construction and facility engineering. The plant will be operated by Nagasaki Nishi Eco-Creation Co., Ltd., a company jointly owned by MHIEC and Kyushu Jukan Operation Co., Ltd., an MHIEC group company. In tandem with the plant's construction and operation, a group of eight Nagasaki-based companies will be formed to promote close ties with the local business community.

During the bidding process for the project, proposals were evaluated comprehensively, considering not only the various candidates' bid amounts but also, significantly, their technological expertise and operational know-how. The selection panel ultimately gave its highest marks to the MHIEC team and its proposal. The winning design aims to express "a ship voyaging into the future" – an image fusing Nagasaki's long connection with the seas as a city historically open to foreign vessels and MHIEC's original concept for the project, a "flagship in a recycling-oriented society."

MHIEC is a world-leading company with a solid track record in the delivery and operation of waste management facilities both in Japan and overseas. Based on these strengths, going forward the company will continue to focus on stable processing of general wastes and recycling, and will aggressively propose comprehensive solutions from initial design and engineering to plant operation, to contribute to the creation of a resource recycling society.

* Notes:
1. A stoker furnace is a common feature of municipal solid waste (MSW) incineration plants. The waste is combusted as it moves along on a fire grate made of heat-resistant castings.
2. Excluding consumption tax.
---
About MHI Group
Mitsubishi Heavy Industries (MHI) Group is one of the world's leading industrial groups, spanning energy, smart infrastructure, industrial machinery, aerospace and defense. MHI Group combines cutting-edge technology with deep experience to deliver innovative, integrated solutions that help to realize a carbon neutral world, improve the quality of life and ensure a safer world. For more information, please visit www.mhi.com or follow our insights and stories on spectra.mhi.com.