MHI Employee Wins Silver Medal in Construction Metal Work Category at 42nd WorldSkills Competition in Leipzig
Tokyo, August 1, 2013 - Daisuke Yamashita, an employee of the Nuclear Energy Systems Headquarters of Mitsubishi Heavy Industries, Ltd. (MHI), has won the Silver Medal in the Construction Metal Work category at the 42nd WorldSkills Competition (WSC) held in Leipzig, Germany from July 2 through 7. In his fourth year working for MHI, the 21-year-old Mr. Yamashita is currently working at the Kobe Shipyard & Machinery Works.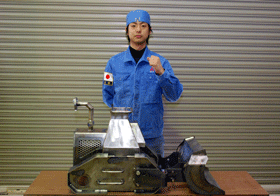 The Construction Metal Work competition tests competitors' skills at making metal works of the quality demanded by designated specification drawings. Skills include line marking, cutting, bending, welding and assembly in accordance with the assigned workpiece's intended purpose, shape and material properties. The skills involved are fundamental for a broad spectrum of industrial applications - from building structures and plants to ships, nuclear energy and aerospace. High precision is indispensable for this competition.

In October 2012, Mr. Yamashita won the Gold Medal in the same category in the 50th National Skills Competition. The previous year, he took the Bronze Medal.

The WorldSkills Competition, originally known as the "Skill Olympics," started in Madrid, Spain in 1950 to promote vocational training, as well as international goodwill and friendship. The event has steadily expanded in the number of participating countries, regions, and competitors. MHI has been actively participating since the 11th competition in 1962, at which one of its employees won a Gold Medal. This year, a total of 45 competitors from Japan vied in 40 categories.

Going forward, MHI will continue to take part in this international event in a quest to foster young, highly skilled professionals and pass on the techniques to the next generation of manufacturing professionals.
---