MHI Receives Order for 13 Centrifugal Chillers for Large-scale District Cooling of Kuala Lumpur City Centre Area
-- Total Cooling Capacity of 36,400 Refrigeration Tons --
Tokyo, July 25, 2013 -- Mitsubishi Heavy Industries, Ltd. (MHI) has received an order for 13 large-size centrifugal chillers, with a total cooling capacity of 36,400 refrigeration tons* (RT), for a large-scale district cooling system for Kuala Lumpur City Centre (KLCC) area, a prime landmark in Kuala Lumpur, Malaysia's capital city. The order marks the largest-scale order of its kind the company has ever received, and MHI believes it resulted from the customer's recognition of the company's world-leading level in refrigeration efficiency and the environmental friendliness of its chillers. Delivery of the 13 chillers is slated for completion in September 2014.
The "AART-280HPL" chillers on order use HFC-134a, a chlorine-free and zero ozone depletion potential (ODP) refrigerant. Besides their usual use for air-conditioning, the chillers also serve as thermal energy source equipment for ice storage system. MHI is to deliver the chillers to Gas District Cooling (M) Sdn. Bhd. - a subsidiary of Petroliam Nasional Berhad (PETRONAS), Malaysia's national oil company - which oversees cogeneration and air-conditioning of the KLCC area. Dai-ichi Jitsugyo (Malaysia) Sdn. Bhd., a subsidiary of Daiichi Jitsugyo Co., Ltd., is a consortium partner in providing the chillers.

KLCC is Kuala Lumpur's main business district, perhaps best known for the PETRONAS Twin Towers: the 452-meter high, 88-storey skyscrapers completed in 1997. The area is also home to the Suria KLCC shopping complex, the Aquaria KLCC oceanarium, a park and a philharmonic hall, and as a result it is always crowded with both business persons and visitors.

MHI believes its advanced technologies in centrifugal chillers, which simultaneously enable easing of environmental burdens, effective district cooling and reduced operation costs, contributed to receipt of the large-scale order.

MHI is Japan's largest centrifugal chiller manufacturer and has supplied numerous systems for applications including district cooling and air-conditioning of plants and office/commercial buildings. In recognition of their outstanding performance, to date the company has received orders for more than 2,500 units of its HFC-134a refrigerant type centrifugal chillers from within Japan and other countries. Spurred by the latest chiller order for cooling of the KLCC area, going forward MHI aims to further strengthen its vigorous marketing activities in Malaysia.

*Note:Refrigeration ton represents refrigerating capacity for turning 2000 lb of 0°C water into 0°C ice in 24 hours. 1 RT = 3,024 kcal/hr.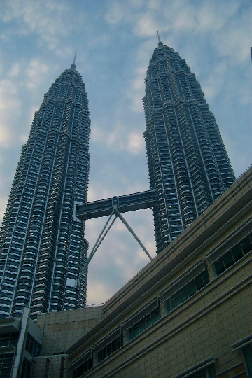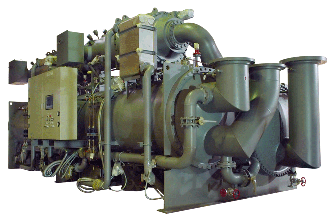 PETRONAS Twin Towers (Photo provided by PIXTA)                  Centrifugal chiller AART-280HPL
 
Products Page
---