EV Racing Car Powered by MHI's Rechargeable Lithium-ion Batteries Wins Grueling U.S. "Race to the Clouds" Hill Climb In Electric Division
Tokyo, July 4, 2013 - An EV (electric vehicle) racing car powered by "MLiX" rechargeable lithium-ion batteries provided by Mitsubishi Heavy Industries, Ltd. (MHI) finished in first place in the Electric Division of the Pikes Peak International Hill Climb (PPIHC)*, a grueling uphill race held in Colorado in the American Rockies in late June. The EV racing car finished the course in 9 minutes and 46.53 seconds (9:46.53), more than 30 seconds faster than the second place vehicle.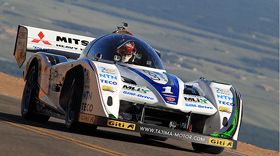 On the final day of the race, June 30, driving conditions were by no means ideal as the road was wet from heavy rain before the start. Those conditions aside, the driver of the winning EV racing car, Nobuhiro "Monster" Tajima, made full use of his vast experience in racing and achieved almost the same lap time as the record (9:46.16) set by last year's overall winner - a gasoline engine racing car.

MHI developed and supplied the high-output lithium-ion batteries for the team's EV racing car to provide the power needed for this demanding high-altitude uphill race. They are based on the company's standard type "MLiX" rechargeable lithium-ion batteries, which have a substantial track record in applications including installations in cargo-container type energy storage systems and hybrid forklift trucks.

MHI now looks to apply what it learned from participation in the PPIHC race to the development of future batteries, as a way of adding further momentum to its ongoing efforts to contribute to the creation of an energy-saving and low-carbon society.

Note:
The PPIHC, which is celebrating its 91st anniversary this year, is the second-oldest motor-sport race in the United States and a historic tradition in the Colorado Springs/Pikes Peak area. The "Race to the Clouds" is a time trial run over a 12.42 mile (approx. 20 kilometers) course with 156 turns that begins at an altitude of 9,390 feet (approx. 2,860 meters) and ends at the summit, 14,110 feet (4,300 meters) above sea level, making it one of the world's most grueling auto races. MHI is a co-sponsor of "Team APEV with Monster Sport" organized by the Association for the Promotion of Electric Vehicles (APEV), which participates in the PPIHC as part of its activities to promote awareness of global environmental protection. This year's competition took place from June 25 to 30.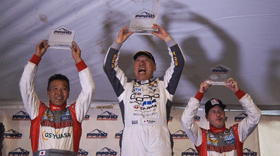 [Awards ceremony]
---
About MHI Group
Mitsubishi Heavy Industries (MHI) Group is one of the world's leading industrial groups, spanning energy, smart infrastructure, industrial machinery, aerospace and defense. MHI Group combines cutting-edge technology with deep experience to deliver innovative, integrated solutions that help to realize a carbon neutral world, improve the quality of life and ensure a safer world. For more information, please visit www.mhi.com or follow our insights and stories on spectra.mhi.com.