Tamachi Building Co. Invites Nursery School Children to Strawberry Picking At Company's Rooftop Garden
-- Offering Fun Learning Opportunity about Environment as CSR Activity --
Tamachi Building Co., Ltd.
Mitsubishi Heavy Industries, Ltd.
Tokyo, June 2, 2014 - Tamachi Building Co., Ltd., a subsidiary of Mitsubishi Heavy Industries, Ltd. (MHI) dedicated to office building services, today invited children of a nearby nursery school for a strawberry picking event on the rooftop garden of a company building in central Tokyo. The event, held to make a social contribution under the MHI group's CSR (corporate social responsibility) guidelines, provided the youngsters an opportunity to learn about environmental issues through a familiar and enjoyable activity, while simultaneously giving the company an opportunity to further promote interaction with its neighbors. The company has held a strawberry picking event in summer and a potato dig in autumn every year since November 2009. The latest occasion marked the ninth of its kind.
The 219 square meter (m2) garden where the event took place is situated on the roof of the Dai Ichi Tamachi Building, directly across from East Japan Railway's Tamachi Station in Minato-ku. Within the rooftop garden, a 21.5m2 vegetable garden has been used for cultivation of 55 strawberry seedlings. The strawberries, which are highly popular among children and suitable for garden farming from winter to spring, were planted after the company's sweet potato dig last autumn.

At the latest event, 15 participating children at the age of three and four from a nearby nursery school first learned about the rooftop garden system and its benefits through explanations using photos and drawings. They then enjoyed strawberry picking, drawing pictures of their fun experience, and eating the strawberries. When the event was finished, they each left with their remaining pickings to take home.

Tamachi Building has been conducting the rooftop garden experiment since May 2009 as part of a program to achieve full-fledged rooftop greening in the near future. The initiative is also linked to Minato-ku's greening campaign targeting a green coverage ratio of 25% by 2026.

Tamachi Building is a wholly owned subsidiary of MHI established in 1964 to own and operate rental office buildings, manage MHI's own buildings, and provide related services. Reflecting a business philosophy that aims to provide safe and comfortable buildings, the company undertakes activities relating to education and the environment in line with MHI's CSR and environmental policies. Since April this year the company has taken up a new challenge focused on consumption, in a restaurant within the Dai Ichi Tamachi Building, of dishes using safe, healthful, freshly picked vegetables cultivated on the site in solar-powered "mini vegetable factories" that use no pesticides or other chemicals.

Through these various activities, Tamachi Building is contributing to a better environment and to its local community as it simultaneously raises the CSR awareness of its employees.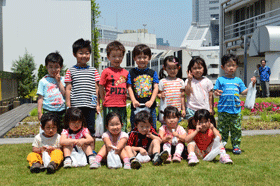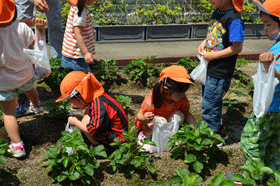 ---
About MHI Group
Mitsubishi Heavy Industries (MHI) Group is one of the world's leading industrial groups, spanning energy, smart infrastructure, industrial machinery, aerospace and defense. MHI Group combines cutting-edge technology with deep experience to deliver innovative, integrated solutions that help to realize a carbon neutral world, improve the quality of life and ensure a safer world. For more information, please visit www.mhi.com or follow our insights and stories on spectra.mhi.com.