"CSR Zone" Created at M's Square in Shinagawa Head Office Building
-- Aimed at Fostering Understanding of How CSR Activities are Linked to Group Business Operations –
Tokyo, May 7, 2013 - Mitsubishi Heavy Industries, Ltd. (MHI) has established a new zone within M's Square, its showroom located on the second floor of the Shinagawa Head Office Building in Tokyo, to showcase news, topics and other items of interest relating to the company's corporate social responsibility (CSR) activities. Through synergistic merits from the surrounding displays of technologies and products, the company aims to foster a deeper understanding of how CSR activities are linked to business operations using explanations of specific company products that are actually contributing to resolving social issues.
The new CSR Zone contains a 40-inch liquid-crystal monitor and multiple graphic panels. The monitor presentation introduces visitors to the MHI Group's fundamental stance toward CSR. The graphic panels describe typical business operations linked to the three aims cited in the "MHI Group CSR Action Guidelines": to form "close ties with the Earth," "close ties with society" and "a bridge to the next generation."

The presentation on the monitor first explains "The Three Principles," the basic management philosophy succeeded through Mitsubishi's more than 130-year history; MHI's "Creed" and other aspects, demonstrating how that philosophy has evolved into the MHI Group CSR Action Guidelines. Next, visitors are introduced to the company's products and technologies relating to energy and the environment and to MHI's support of disaster recovery efforts. Finally, an introduction is given of the science and other classes conducted by MHI staff at schools around the country in a quest to induce many children to recognize the wonder and excitement of science and manufacturing.

The graphic panels focus on how MHI is pursuing "close ties with the Earth" as delineated in the special feature in the company's "CSR Report 2012," specifically presenting MHI's energy and environment solutions being applied in high-efficiency power generation projects in China and India. In conjunction with "close ties with society," the panels focus on a project to construct a large-scale fertilizer project that will contribute to food self-sufficiency in Indonesia. Finally, as a presentation of MHI's commitment to forming a "bridge to the next generation," the panels describe MHI's involvement in smart community demonstration projects in Japan and Spain.

M's Square uses actual products, models, video presentations, etc. to provide visitors of all ages easy-to-understand introductions to the MHI Group's technologies and products spanning a broad range of business areas, including energy, the environment, aerospace and much more. With creation of the new CSR Zone, visitors will now acquire an even clearer understanding of how the Group's technologies and products are leading to solutions of social issues. Going forward, the display content will be periodically reviewed and revised to promote ever-wider comprehension of MHI's CSR activities and aims.
Outline of M's Square
Location: 2-16-5, Konan, Minato-ku, Tokyo 108-8215, Japan (2nd floor, Shinagawa Head Office Building)
Access: 5-minute walk from Konan Exit of JR/Keikyu Shinagawa station
Opening hours: 9:30 a.m. to 6:00 p.m. (on days when MHI is open for business)
Closed days: Saturdays, Sundays, national holidays, New Years holiday period and other specially designated dates
Website: www.mhi-global.com/discover/mssquare/index.html
Admission: free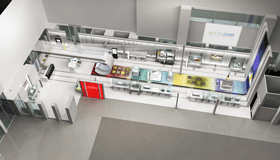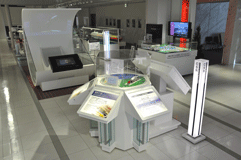 [Overview image of M's Square]                             [CSR Zone]
---
About MHI Group
Mitsubishi Heavy Industries (MHI) Group is one of the world's leading industrial groups, spanning energy, smart infrastructure, industrial machinery, aerospace and defense. MHI Group combines cutting-edge technology with deep experience to deliver innovative, integrated solutions that help to realize a carbon neutral world, improve the quality of life and ensure a safer world. For more information, please visit www.mhi.com or follow our insights and stories on spectra.mhi.com.