MHI Completes Final Shipment of Turbine Rotors for Nuclear Power Plants in China
-- Installation in Units No.1 & 2 of Sanmen and Haiyang NPPs --
Tokyo, April 25, 2013 - Mitsubishi Heavy Industries, Ltd. (MHI) has completed the shipment of 16 turbine rotors, consisting of 12 low-pressure and 4 high-pressure units, to nuclear power plants (NPP) in China that are the world's first to adopt the AP1000 reactor design. MHI received the orders for the NPP-use turbine generators, destined for Units No.1 and 2 of the Sanmen NPP and Units No.1 and 2 of the Haiyang NPP, in 2007 and 2008. MHI began production of the turbine rotors, core component of the turbine generators, in the autumn of 2009. The last turbine rotor shipped from MHI's Takasago Machinery Works was a low-pressure unit for the Sanmen NPP.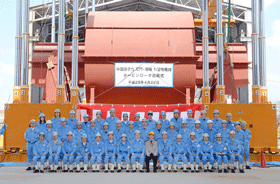 To celebrate the completion of shipments, a ceremony took place on April 22 at the Takasago Machinery Works attended by Kenji Ando, Senior Vice President and Head of the Takasago Machinery Works of MHI, and about 100 people from the company's Nuclear Energy Systems and Power Systems segment and Engineering Headquarters.

The Sanmen NPP is located in Sanmen, Zhejiang Province, and the Haiyang NPP is situated in Haiyang, Shandong Province. The plants are currently being built, respectively, by Sanmen Nuclear Power Co., Ltd. and Shandong Nuclear Power Co., Ltd. Each of the NPPs' four units will have an output capacity of 1,250 MWe (megawatts electrical).

MHI received the orders for the turbine generator system for the two NPPs jointly with Harbin Power Equipment Company Limited (HPEC: presently Harbin Electric Company Limited). The low-pressure turbines shipped are large-size, high-performance, high-efficiency units adopting the latest 54-inch class rotating blades at the last stage. MHI designed and manufactured the NPP-use turbines, including the rotors, which are the core components. HPEC was responsible for the turbine casings, piping and associated equipment. Mitsubishi Electric Corporation supplied the generators for Unit No.1 of both NPPs, while Harbin Electric Machinery Company Limited was in charge of supplying the generators for Units No.2.

MHI previously completed deliveries of NPP-use turbine generators (two units each) for the newly built Laguna Verde NPP in Mexico and for the Fourth NPP in Taiwan. The company has also supplied replacement turbine rotors for the Vandellos NPP in Spain and the Krsko NPP in Slovenia.

Going forward MHI will further strengthen its proactive marketing not only of safe and economical nuclear reactors, but also of turbine generator systems, including turbines, for NPPs.
---