MHI to Establish Centrifugal Chiller Production, Marketing and Service JV in China, Jointly with Dalian Refrigeration
Tokyo, April 12, 2013 - On April 12 Mitsubishi Heavy Industries, Ltd. (MHI) and Dalian Refrigeration Co., Ltd. (DRC), the largest manufacturer of screw compressor chillers in China, signed a joint venture agreement under which the two companies will establish a new company in Dalian, Liaoning Province, this July. The operation of the JV will include production, marketing and servicing of centrifugal chillers. With establishment of the JV, MHI aims to enhance the cost competitiveness of its chillers by securing a local production base in China, the world's largest market for centrifugal chillers. Going forward MHI will engage in sales expansion in China through the new JV, and it also looks to leverage the new unit as a base for aggressively tapping into the global market.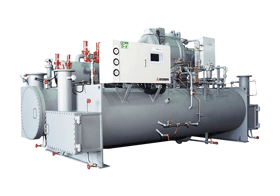 The new company, to be named MHI Bingshan Refrigeration (Dalian) Co., Ltd., will be capitalized at 80 million yuan (approximately 1.2 billion yen: converted at 1 yuan = 15 yen), with MHI owning a 55% equity share and DRC holding the remaining 45%. The JV will be licensed to manufacture MHI's medium- and large-size centrifugal chillers in China, for which a new 12,000 square meter factory will be newly constructed within DRC's current plant site in Dalian. The JV plans to launch production in April 2014 and looks to establish a structure to produce 500 units per year in the near future.

Initially Mitsubishi Heavy Industries Air-conditioners (Shanghai) Co., Ltd., a company to comprehensively oversee MHI's air-conditioning and refrigeration systems business in China, will market and service the chillers, utilizing its local sales network already in place. MHI also plans to market the centrifugal chillers manufactured by the JV outside China, mainly in Asia and the Middle East, through its own sales network, with the intention of developing the JV in Dalian into a global production base.

DRC is an affiliate of Dalian Bingshan Group Co., Ltd., a supplier of air-conditioning and refrigeration systems and equipment for petrochemical plants. DRC's product portfolio centers on the Bingshan ("iceberg") brand of industrial refrigeration systems.

MHI's centrifugal chillers deliver the world's highest levels of refrigeration efficiency and environmental performance, features enabling the company to enjoy a near 60% share of the Japanese market. However, in order to further drive sales expansion in major markets around the world, including China, MHI deemed it necessary to significantly enhance cost competitiveness, a stance that led to the establishment of the new JV with DRC.

With the new JV in China playing a central role, going forward MHI looks to establish globally optimized production and parts procurement structures for centrifugal chillers, and to enhance their competitiveness as a springboard for expanding the company's share in the global market.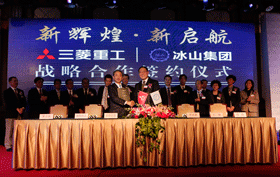 [Signing ceremony]
---
About MHI Group
Mitsubishi Heavy Industries (MHI) Group is one of the world's leading industrial groups, spanning energy, smart infrastructure, industrial machinery, aerospace and defense. MHI Group combines cutting-edge technology with deep experience to deliver innovative, integrated solutions that help to realize a carbon neutral world, improve the quality of life and ensure a safer world. For more information, please visit www.mhi.com or follow our insights and stories on spectra.mhi.com.