MHI Starts Distribution of IR Information via New App for Smartphones
-- Part of Company Initiative to Develop New Communication Tools Useful for Both Investors and Other Stakeholders --
Tokyo, April 3, 2013 - Mitsubishi Heavy Industries, Ltd. (MHI) has launched distribution of its investor relations (IR) information via a new application (app) for the smartphone platform. The move will enable provision of IR information and data on corporate activities via iPhones as a follow-up to the launch of app-based distribution of the company's "Annual Report 2012" to personal digital assistants (PDA) last November. Currently provision of IR information by this method is limited to Japanese language only, but the system will be extended to English language in the future. Going forward, MHI also intends to progressively develop other apps of these kinds as new communication tools useful for providing company information not only to its investors but also to a broad range of stakeholders.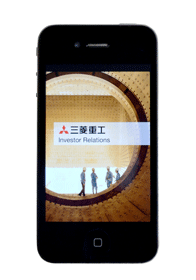 The newly developed app offers information in five categories: "News," "Library," "Events," "Share Price" and "Company Information." Under "News" readers have access to the latest company news. The "Library" feature enables users to read announcements of the company's earnings results, Medium-Term Business Plans, materials relating to business information sessions, etc. Under "Events," readers are provided information on IR-related events such as earnings results meetings and regular general shareholders meetings. The "Share Price" feature allows monitoring of MHI's share price in real time. The "Company Information" segment not only provides a company overview; it also introduces the company's head office and its various works, augmented by a mapping function, gives introductory data on company products and business areas, accompanied by visuals, and permits reading of the in-house magazine, "MHI Graph."

The new IR information app can be easily downloaded from the App Store operated by Apple Inc. for users of its information terminals. Among the app's convenient features is ability to register MHI events into the user's personal schedule. Another useful feature distributes emergency information in times of natural disaster, etc.

MHI intends to use the new app as a springboard for strengthening the company's distribution of a broad array of IR information and information on company activities to a larger number of stakeholders. Plans also call for the app to help promote more frequent reading of its website and greater interactive communication between the company and its users.

Going forward, the company will continue to enhance its information contents and to diversify its communication methods in its quest to seek ever broader contact with investors and a wide range of stakeholders.
Application Overview
Title: "MHI IR"
Price: Free
Category: Finance
Applicable devices:  iPhone 5/iPhone 4S/iPhone 4/iPod Touch(4th Generation and later)
Applicable OS: iOS4.3 and later
Access method: Download from App Store
Note: "iPhone," "App Store" and "iPod touch" are trademarks of Apple Inc. registered in the United States and other countries. In Japan, the iPhone trademark is used under license from Aiphone Co., Ltd. "iOS" is a trademark of Cisco Systems, Inc. registered in the United States and other countries.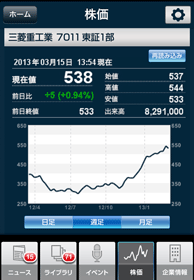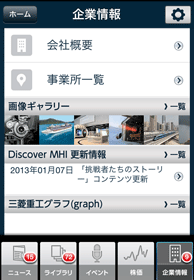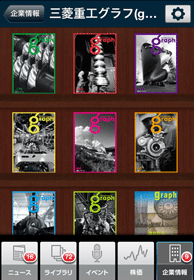 [Information on share prices]          [Information on MHI]                [MHI Graph archive]

---
About MHI Group
Mitsubishi Heavy Industries (MHI) Group is one of the world's leading industrial groups, spanning energy, smart infrastructure, industrial machinery, aerospace and defense. MHI Group combines cutting-edge technology with deep experience to deliver innovative, integrated solutions that help to realize a carbon neutral world, improve the quality of life and ensure a safer world. For more information, please visit www.mhi.com or follow our insights and stories on spectra.mhi.com.