MHI Holds Ceremony Welcoming New Employees for 2013
-- President Miyanaga Offers Words of Advice and Encouragement--
Tokyo, April 1, 2013 - On April 1 Mitsubishi Heavy Industries, Ltd. (MHI) formally welcomed its new employees joining the company this year at a ceremony conducted at Shinagawa Intercity Hall in Minato-ku, Tokyo. President Shunichi Miyanaga addressed the new recruits, who on this date joined the ranks of MHI employees and simultaneously started their lives as full-fledged members of society, with words of encouragement as leader of a manufacturing firm and as an experienced participant in society. He expressed his high hopes and strong expectations for the future achievements to be made by these young men and women, indicating how they should prepare themselves as MHI employees and exhorting them to become professionals of astute depth.
To begin, Mr. Miyanaga presented an overview of MHI. He related how the company traces its origins to the year 1870, when Yataro Iwasaki founded a firm known as Tsukumo Shokai. Company operations got under way in earnest, however, in 1884 with the establishment of the Nagasaki Shipyard & Machinery Works. In the 129 years since, MHI, along with its more than 300 Group companies in Japan and abroad, has contributed to the social and economic development of numerous countries as a company that supports social and industrial infrastructures.
The President next shifted focus to describing how MHI is currently pursuing organizational management unencumbered by its conventional framework. "Today, MHI is undertaking significant changes in order to adapt to the dramatic changes occurring in the market along with economic globalization," he stated. "Among those changes, we are strengthening our business promotion structure, placing authority and responsibility squarely into the hands of each business headquarters." Mr. Miyanaga went on to elaborate that the company is mulling taking the successful results of that initiative one step further, with a plan calling for Groupwide consolidation and restructuring of business segments into four core domains: Energy & Environment; Machinery, Equipment & Systems; Transportation; and Defense & Aerospace. He also noted that starting this month restructuring will also be carried out within the corporate segment, pursuing further upgrading and greater efficiency in order to achieve optimal processes to support the company's global business expansion.
The President continued by illustrating how MHI is today implementing various fortification measures unfettered by the company's traditional framework. "In November of 2012, for example, we decided to integrate our operations in thermal power generation systems – one of our core business areas – with those of Hitachi Limited, in a quest to become a leading company in this field on global scale," Mr. Miyanaga explained. And he went on to express his high hopes for the creativity and vitality of the young men and women that MHI was welcoming at this juncture in its program of reforms and new challenges.
The President subsequently proceeded to tell the new recruits about MHI's sense of values. He introduced them to the company's Corporate Identity statement: "Our Technologies, Your Tomorrow." "These words reflect our strong aspiration to be a company that continuously contributes to the realization of a sustainable society on global scale through corporate activities of global scale focused on the Earth's environment," he told them. And he spoke of MHI's duty to respond to the expectations of society as a responsible and environmentally conscious manufacturing firm.
Next, Mr. Miyanaga introduced his newest employees to MHI's corporate creed, which consists of three commitments. The first is: "We strongly believe that the customer comes first and that we are obligated to be an innovative partner to society." In this regard, the President stated that the basis of MHI's business activities is to make ongoing contributions to social progress from the perspective of the customer. Second: "We base our activities on honesty, harmony, and a clear distinction between public and private life." In this regard, Mr. Miyanaga stated the company's intention to fulfill its social responsibilities by pursuing greater transparency in its business operations and adhering strictly to rules of compliance. Third: "We shall strive for innovative management and technological development from an international perspective." Here, Mr. Miyanaga said that the MHI Group's mission is to spread its technologies and knowhow worldwide as a way of helping Japan to be a technologically driven nation with a global perspective.
Finally, the President described how the new employees should prepare themselves for taking up their new jobs. To begin, he encouraged them to be good members of the company, good members of society and globally respected individuals with an international perspective. He told them that by holding their relationships with others, learning, and working selflessly for others' sake, they would carve out an enriched social life for themselves. He also exhorted them to study a foreign language in order to be able to communicate with people around the world, and to make a point of becoming familiar with people from other countries and their cultures, always with an attitude of respect for them. Second, Mr. Miyanaga encouraged the new recruits to become professionals of astute depth. He offered that true professionals are nurtured by a well-thought-out routine encompassing the acquisition of special knowledge and practical experience, plus the fundamental principles and connections with related areas that underlie them. "Continuity leads to strength," the President told them, and he exhorted all the new employees to always approach their work unflinchingly and with a quizzical mind. Lastly, Mr. Miyanaga encouraged the new recruits to pursue healthy lifestyles as a way of achieving a rewarding life. "Take good care of your health," he said in closing, and he expressed his wish for them to live rewarding and well-paced lives.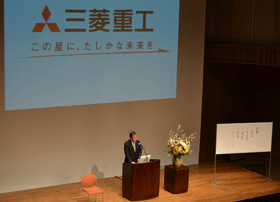 President Shunichi Miyanaga welcomes new employees at the ceremony.


---
About MHI Group
Mitsubishi Heavy Industries (MHI) Group is one of the world's leading industrial groups, spanning energy, smart infrastructure, industrial machinery, aerospace and defense. MHI Group combines cutting-edge technology with deep experience to deliver innovative, integrated solutions that help to realize a carbon neutral world, improve the quality of life and ensure a safer world. For more information, please visit www.mhi.com or follow our insights and stories on spectra.mhi.com.