MHI and Imabari Shipbuilding to Establish JV
For Designing and Marketing LNG Carriers
-- Move Taken to Accommodate Large-scale Projects
As Way of Winning Solid Place in Expanding International Market --
Tokyo, March 25, 2013 - Effective April 1 Mitsubishi Heavy Industries, Ltd. (MHI) and Imabari Shipbuilding Co., Ltd. of Imabari, Ehime Prefecture, will jointly establish MI LNG Company, Limited, a company to handle the design and marketing of LNG (liquefied natural gas) carriers. Through establishment of the JV, the two companies aim to proactively prepare a structure capable of responding to large-scale LNG carrier construction projects, which are expected to increase in tandem with expanding global demand for LNG. By combining MHI's technology development capabilities and Imabari Shipbuilding's cost competitiveness, supported further by the effective management of their respective shipyards, the two companies look to win a solid place in the growing international LNG carrier market.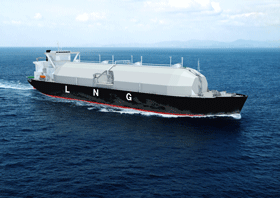 The JV, which will have its head office in Minato-ku, Tokyo, will be capitalized at 50 million yen. MHI will own 51% of equity and Imabari Shipbuilding will hold the remaining 49%. Upon receiving an order for an LNG carrier, the JV will prepare the specifications, etc., and then order ship construction either to MHI's Nagasaki Shipyard & Machinery Works or to Imabari Shipbuilding.

With shipyards of two companies at its disposal, the JV will be able to secure collective shipbuilding capacity of more than eight LNG carriers per year. This will enable the JV to take orders for multiple LNG carriers, putting it in a position to vie against Korean and other large shipbuilders. Regarding LNG carrier types, besides the conventional Moss type with spherical LNG tanks and the membrane type, the JV can also offer the "Sayaendo," a new-generation LNG carrier* developed by MHI as a high value-added vessel evolved from Moss-type carriers but achieving enhancements in energy savings and operability.

MHI is a pioneer in Japan's LNG carrier industry, having engaged in their development and construction since the 1970's. To date the company has delivered 42 ships. Imabari Shipbuilding, Japan's largest shipbuilder in terms of both tonnage and sales revenue, is one of major shipbuilding dedicated companies in Japan that include LNG carriers in its portfolio.

Last year, in May MHI agreed with Imabari Shipbuilding to collaborate in container carrier technology, and in July to license manufacture and marketing rights of deck machinery. In October, the two companies jointly received an order for two highly energy-efficient, next-generation pure car and truck carriers from Nippon Yusen Kabushiki Kaisha (NYK Line). This increasingly close relationship between MHI and Imabari Shipbuilding resulted in the latest collaboration agreement.

Owing to the suspended operation of nuclear power plants in Japan in the wake of the Great East Japan Earthquake, demand for LNG as a fuel for power generation has been expanding not only in Japan but globally. In addition, as a direct outgrowth of the "shale gas revolution" in the U.S., the share of North American LNG in the global market is expected to increase, resulting in a trend toward longer transport distances. With volume growing and transport distances lengthening, the number of LNG carriers required is expected to increase. As a result, in order for industry players to attract orders, their shipyards must be structurally prepared to accommodate construction of multiple carriers within in a short period.

Going forward MHI and Imabari Shipbuilding will explore demand for LNG carriers widely as they look to gain an edge in this increasingly competitive market.
Profile of the New Company
Company name:  MI LNG Company, Limited
Business scope: Businesses related to design and marketing of LNG carriers
Head office: 4-5-1, Shimbashi, Minato-ku, Tokyo
President: Haruhiko Omi
Capital: 50 million yen
Operation launch: April 8, 2013
*Note: The "Sayaendo" has a peapod-shaped continuous cover over spherical LNG tanks that is integrated with the ship's hull. This innovative design enables a more efficient overall ship structure and reductions in ship weight and size. MHI has now completed the new vessel's development and received orders for five units. The first ship is currently under construction.

Products Page
---
About MHI Group
Mitsubishi Heavy Industries (MHI) Group is one of the world's leading industrial groups, spanning energy, smart infrastructure, industrial machinery, aerospace and defense. MHI Group combines cutting-edge technology with deep experience to deliver innovative, integrated solutions that help to realize a carbon neutral world, improve the quality of life and ensure a safer world. For more information, please visit www.mhi.com or follow our insights and stories on spectra.mhi.com.