MHI Develops "VOLTANK" Portable Power Supply Featuring Lithium-ion Rechargeable Batteries
-- Target Applications Include Emergency Power Source for BCP and Standard Supply for Outdoor Events --
Tokyo, February 21, 2013 - Mitsubishi Heavy Industries, Ltd. (MHI) has developed and commenced marketing of a small-scale portable power supply featuring lithium-ion rechargeable batteries developed in-house. Dubbed the "VOLTANK* ML500i," the unit is easy to transport and to install and can be used with electrical equipment having maximum output up to 500 watt (W); in the case of a laptop computer, it enables approximately 15 hours of usage. MHI aims to explore demand in a wide range of applications, including as an emergency power supply for business continuity plans (BCP) and as a portable power supply for outdoor events.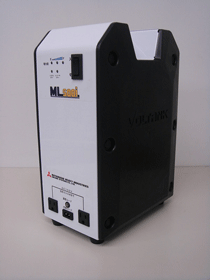 The VOLTANK ML500i weighs approx. 13 kilograms (kg) and is 180 millimeters (mm) in width, 270 mm in depth and 400 mm in height. Each unit incorporates three MLiX lithium-ion rechargeable batteries with high energy capacity density developed for power storage applications. Effective capacity is 360 watt-hours (Wh). As self-discharge is extremely low, the VOLTANK ML500i can serve as a reliable emergency power supply even when left standing for a prolonged period. For safety, VOLTANK adopts various safety functions, including overcharge prevention.

Ever since the Great East Japan Earthquake of March 2011, there have been strong calls for the need to secure emergency power sources for information systems, etc. as a corporate BCP measure. In many instances, however, cost difficulties hinder the introduction of multiple large-scale power supply units for distributed installation. The small-scale, portable VOLTANK ML500i is viewed as the resolution to such cost obstacles.

The VOLTANK ML500i is being manufactured and marketed by Mitsubishi Heavy Industries Engine Systems Co., Ltd., a wholly owned subsidiary of MHI based in Tokyo, which also manufactures and markets a small-scale portable power supply featuring engine. Therefore, the company is being able to respond a much wider range of customer's needs. Initially the system will be marketed to the corporate sector primarily as a BCP measure to cope with cases where the introduction of large-scale power sources is difficult, with subsequent plans calling for expansion into the general market.

MHI will exhibit VOLTANK ML500i at the 4th International Rechargeable Battery Expo "BATTERY JAPAN" to take place at Tokyo Big Site in Tokyo from February 27 through March 1.
Major Specifications of VOLTANK ML500i

| | |
| --- | --- |
| Input Voltage | AC100V |
| Output Voltage | AC100V |
| Maximum output | 500W |
| Effective capacity | 360Wh |
| Frequency | 50/60Hz |
| Charging time | Approx. 3 hours (internal charger) |
| Dimensions (W×D×H) | 180×270×400mm |
| Weight | Approx. 13kg |
* "VOLTANK," a neologism combining the words "volt" and "tank," is an Mitsubishi Heavy Industries, Ltd. registered trademark in Japan.
---
About MHI Group
Mitsubishi Heavy Industries (MHI) Group is one of the world's leading industrial groups, spanning energy, smart infrastructure, industrial machinery, aerospace and defense. MHI Group combines cutting-edge technology with deep experience to deliver innovative, integrated solutions that help to realize a carbon neutral world, improve the quality of life and ensure a safer world. For more information, please visit www.mhi.com or follow our insights and stories on spectra.mhi.com.