MHI Begins Test Operation of Large-Scale Wind Power Generation System Adopting a Hydraulic Drive Train
-- A World's First, at Yokohama Dockyard & Machinery Works --
Tokyo, January 24, 2013 - In December Mitsubishi Heavy Industries, Ltd. (MHI) commenced test operation at its Yokohama Dockyard & Machinery Works of a large-scale wind power generation system that adopts a hydraulic drive train in place of the earlier gear-driven system. The test operation is a part of the project launched in September last year to develop a hydraulic drive train system for offshore wind turbines, which is supported by the New Energy and Industrial Technology Development Organization (NEDO). The event marks a world's first operation of a large-scale hydraulic drive train type wind power generation system applying MHI's Digital Displacement® Transmission technology. Leveraging the test results, MHI will accelerate its development of an offshore wind power generation system in the 7-megawatt (MW) class, with installation and operation slated to begin at Hunterston, in the UK, within the current year. A mass-produced commercial model will be targeted for market launch in 2015.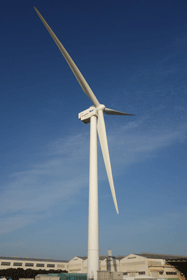 The system recently inaugurated in Yokohama is based on an existing "MWT100" gear-driven wind power generation system that was retrofitted with the new hydraulic drive train. The retrofitting involved replacement of the step-up gear – which functioned as the power transmission system to increase the rotation speed of the rotor (10 rotations per minute: rpm) to the rotation speed of the generator (1,000 rpm) – by the Digital Displacement Transmission hydraulic drive train.

MHI developed the new hydraulic drive train, with support from NEDO, based on the superior digitally controlled hydraulic technologies of Artemis Intelligent Power, Ltd. of the UK, a venture company acquired by MHI in 2010. The new system offers numerous advantages over earlier systems. Adoption of the hydraulic drive train, for example, realizes outstanding efficiency and reliability through elimination of the conventional step-up gear and inverter, components that have been an issue in the quest for large-scale wind power generation systems. Also, the new configuration offers superlative cost performance as a result of its incorporation of widely adopted hydraulic equipment and materials and relatively inexpensive alternators.

MHI launched development of wind power generation systems in 1980, and the company's worldwide deliveries to date exceed 4,000 units with a collective output of 412.4 MW. With the test operation results of the latest unit at Yokohama, the company will move swiftly forward in its development of the new type system in order to respond to the schedules of the two projects: the operation of onshore demonstration unit in the UK and an offshore floating wind farm project in Fukushima, Japan. The new installations are slated to begin trial operations in June 2013 and August 2014, respectively.

Going forward, MHI intends to aggressively develop and supply both carbon-free power generation systems - wind, solar and geothermal – as well as highly efficient systems fired by coal, natural gas and other sources that offer outstanding thermal efficiency. In these ways the company looks to make significant contributions to the prevention of global warming and to conservation of energy resources.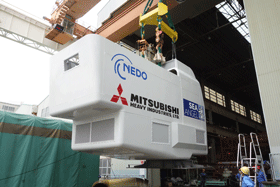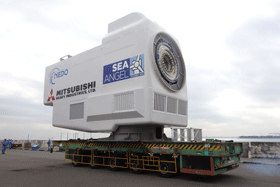 MHI's  hydraulic drive train type wind power generation system(nacelle)
 Products Page
---
About MHI Group
Mitsubishi Heavy Industries (MHI) Group is one of the world's leading industrial groups, spanning energy, smart infrastructure, industrial machinery, aerospace and defense. MHI Group combines cutting-edge technology with deep experience to deliver innovative, integrated solutions that help to realize a carbon neutral world, improve the quality of life and ensure a safer world. For more information, please visit www.mhi.com or follow our insights and stories on spectra.mhi.com.