MHI and Mitsui O.S.K. Lines Co-develop Japan's First ClassNK Approved
Installation Technology for Container-Type Ballast Water Treatment System
-- Will Enable Faster BWTS Retrofitting and Deployment --
Tokyo, January 23, 2013 - Mitsubishi Heavy Industries, Ltd. (MHI), working jointly with Mitsui O.S.K. Lines, Ltd. (MOL), has developed installation technology of a ballast water treatment system (BWTS) enclosed in a standard-size freight container in the hold of container ships. The system using container-type BWTS design is the first to receive the concept approval from Nippon Kaiji Kyokai (ClassNK)*. The new technology will significantly reduce BWTS retrofitting turnaround time in comparison to engine-room BWTS installation. Going forward, MHI and MOL will strengthen proposal-based marketing of the new technology as a key solution for Ballast Water Management (BWM) Convention compliance.
The container-type BWTS houses most devices necessary for ballast water treatment in a 40-ft high-cube container - approx. 12.2meters (m) in length, 2.4m in width x 2.9m in height. Within the container, the devices are arranged to maximize available space and facilitate maintenance.

When installing the container-type BWTS in the ship hold, preliminary surveys are simplified because the only major work needed is ballast water intake/discharge and power line connection. In most cases, work can be completed in approximately two weeks, about seven days less than installation in an engine room. The work does not require cutting of the ship's side shell, and can be completed at pier, eliminating the need to drydock. The container-type BWTS is ideal for ships that do not have enough space in the engine room for related systems and piping.

MHI and MOL will verify the new system's operation by installing it on MOL COMPETENCE, an 8,100 teu (20-ft equivalent unit) container ship that MHI built at its Nagasaki Shipyard and Machinery Works and delivered to MOL in 2008. MHI has already begun detailed design of a system with the capacity to process 750 cubic meter (m3) of ballast water per hour on the ship, with installation slated for this spring.

Ballast water consists of seawater taken into and discharged from dedicated water tanks to provide stability and adjust the ship's trim as desired, according to cargo load and other factors. International concern about ballast water has increased since the late 1980's due to the possibility of transporting marine organisms beyond their habitat boundaries and affecting marine ecosystem and biodiversity conservation. In response, the International Maritime Organization (IMO) adopted the International Convention for the Control and Management of Ships' Ballast Water and Sediments in February 2004, an agreement which is currently in the process of being ratified by IMO members prior to its entry into force.

Going forward, MHI will widely promote the easy-to-install advantages of container-type BWTS to ship owners and builders, and aggressively explore BWTS installation needs for container ships and other types of vessel already in service.


Note: Concept Approval of Installation for Packaged Container Ballast Water Treatment System in Cargo Hold.

                           【MOL's containership in service】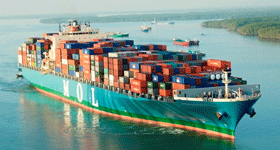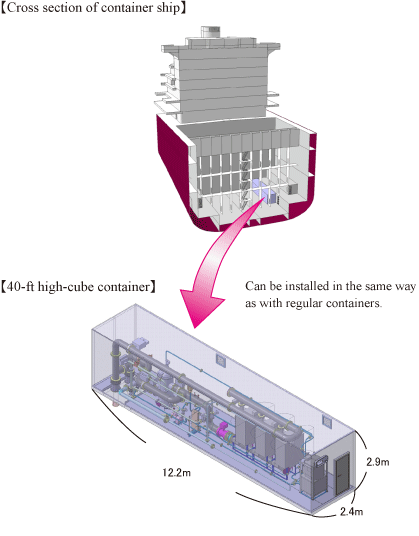 ---
About MHI Group
Mitsubishi Heavy Industries (MHI) Group is one of the world's leading industrial groups, spanning energy, smart infrastructure, industrial machinery, aerospace and defense. MHI Group combines cutting-edge technology with deep experience to deliver innovative, integrated solutions that help to realize a carbon neutral world, improve the quality of life and ensure a safer world. For more information, please visit www.mhi.com or follow our insights and stories on spectra.mhi.com.