MHI Receives Full-Turnkey Order for 1,600MW GTCC Power Plant
From Gulf JP UT in Thailand, A Subsidiary of J-Power
Tokyo, December 20, 2012 - Mitsubishi Heavy Industries, Ltd. (MHI) has received a full-turnkey order from Gulf JP UT Company, Ltd. (GUT) for the construction of a 1,600MW (megawatt) gas turbine combined cycle (GTCC) power generation plant (two blocks of a 800MW power generation unit) in Thailand. GUT is a wholly owned subsidiary of Gulf JP Company Limited, which is 90% owned by a local subsidiary of Electric Power Development Co., Ltd. (J-Power) of Japan and 10% owned by Gulf Energy Development Company Limited, a major local power development company. MHI has also concluded a long-term parts agreement (LTPA) for the plant. The large-scale power plant construction project is aimed at increasing power supply in response to Thailand's continuously expanding electricity demand along with economic growth. The two units are slated to go on-stream in June and December 2015, respectively.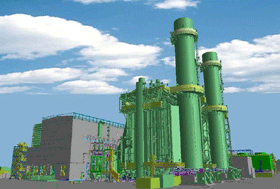 The GTCC power plant will be located in U Thai district, Ayutthaya Province, approximately 70 kilometers north of Bangkok. It will be built and operated by GUT under the Thai Government's electric power development plan. The power generated by the plant will be supplied to the Electricity Generating Authority of Thailand (EGAT) based on a long-term power purchase agreement to support the nation's robust electricity demand.

The GTCC power plant will have dual fuel specifications enabling both natural gas and diesel oil combustion, and will consist mainly of four M701F4 gas turbines, two steam turbines and six generators. MHI will manufacture and supply the gas and steam turbines, etc. while Mitsubishi Electric Corporation will be responsible for the generators. Civil and installation work at the construction site will be handled by Sino-Thai Engineering and Construction Public Company, Ltd., a local construction firm. After plant inauguration, MHI will provide support in plant maintenance and management based on the LTPA.

GUT is a special-purpose company (SPC) established by Gulf JP Company Limited to execute this project. Previously MHI received an order for a 1,600MW (800MW x 2) GTCC plant - currently being built in Nong Saeng district, Saraburi Province – from Gulf JP NS Company, Limited (GNS), another SPC established by Gulf JP.

GTCC power generation uses gas and steam turbines in combination to generate electricity in two stages, utilizing high-temperature exhaust gas from the gas turbine to produce steam to drive the steam turbine. This configuration enables GTCC power plants to achieve higher thermal efficiency, which in turn reduces fuel consumption and emissions, ultimately contributing to both efficient fossil fuel utilization and lighter burden on the environment.

MHI has already delivered many GTCC power generation systems in Japan and other countries, and the company enjoys a solid reputation in the power generation system market both for its technological expertise and delivery track record. Adding the momentum from the latest order, going forward MHI now looks to further strengthen its aggressive marketing activities for its GTCC power generation systems and high-efficiency gas turbines, for effective energy utilization and reduction of CO2 emissions.
---
About MHI Group
Mitsubishi Heavy Industries (MHI) Group is one of the world's leading industrial groups, spanning energy, smart infrastructure, industrial machinery, aerospace and defense. MHI Group combines cutting-edge technology with deep experience to deliver innovative, integrated solutions that help to realize a carbon neutral world, improve the quality of life and ensure a safer world. For more information, please visit www.mhi.com or follow our insights and stories on spectra.mhi.com.