MHI to Introduce M501JAC Gas Turbine:
Air-cooled Version of World's Highest Efficiency J-Series
-- Superior Operability Including Quick Start-up Time --
Tokyo, December 11, 2012 - Mitsubishi Heavy Industries, Ltd. (MHI) has developed and is now marketing the "M501JAC" gas turbine, an air-cooled version of the company's state-of-the-art steam-cooled J-Series gas turbine introduced in 2009. The M501JAC features outstanding operability, including reduced start-up time, while maintaining the same level of performance as the M501J. By expanding its J-Series lineup of gas turbines offering the world's highest level of efficiency, the company is well positioned to take the lead in the high-end gas turbine market.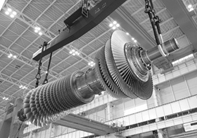 The newly introduced M501JAC is an air-cooled version of the M501J developed using the same successful approach as the company adopted earlier for its G-Series, in which the air-cooled "GAC" version was launched after verification of its steam-cooled precursor. The modified model provides enhanced operational flexibility by detaching the gas turbine from the bottoming cycle. The shipment of the first M501JAC is expected in 2015.

The M501JAC features a gas turbine output of 310 MW (megawatts) and a gas turbine efficiency rating above 41%. In a gas turbine combined-cycle (GTCC) arrangement, MHI pursues output of 450 MW and an efficiency rating in excess of 61% with a one-on-one single-shaft configuration.

The first M501J was installed in MHI's own GTCC power station at its Takasago Machinery Works. Commissioned during the first half of 2011, to date the unit has accumulated more than 8,000 operating hours and 100 starts. Levering its successful validation and its outstanding efficiency in a combined-cycle configuration, MHI has secured orders equivalent to over 9,000 MW, with sixteen 60 Hz and two 50 Hz units sold in Japan and South Korea. With the addition of the air-cooled M501JAC, MHI will be in a position to respond ever more precisely to diverse needs for advanced systems in the global market for power generation systems.

GTCC is a superior power generating system that combines power generation by gas turbine and generation by steam turbine, a feat accomplished by utilizing the exhaust energy from the gas turbine. Systems of this kind are in strong demand in recognition of their superlative efficiency and environmental friendliness. A GTCC plant equipped with a J-Series gas turbine is capable of reducing CO2 emissions by half compared to a conventional coal-fired power generation plant.

MHI oversees the development, design, manufacture and verification of its gas turbines applying the company's proprietary technologies. With its J-Series gas turbines and other high-efficiency power system products, MHI is contributing toward the achievement of a low-carbon society and a cleaner environment for generations to come.
---