MHI to Produce Turbochargers in Indiana to Meet Increasing U.S. Demand
-- Commercial Operation to Begin in Autumn 2014 --
Tokyo, December 11, 2012 - Mitsubishi Heavy Industries, Ltd. (MHI) will begin commercial production of automotive turbochargers in Franklin, Indiana, in the autumn of 2014 to meet significantly increasing demand in the U.S. Adoption of turbochargers for small gasoline engines is in an accelerating trend within the U.S. auto industry because of fuel efficiency regulations to be tightened in the U.S.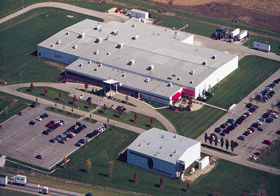 The turbocharger production plant will function as a production plant of Mitsubishi Engine North America, Inc. (MENA), MHI's engine and turbocharger marketing subsidiary in North America. Making use of MHI's total power in North America, MHI will launch turbocharger production at an existing plant of Mitsubishi Heavy Industries Climate Control, Inc. (MCCA) under a "shared factory" scheme, whereby the production facility will simultaneously serve as a production base for other company business. MCCA is a U.S. subsidiary of MHI that handles the company's air-conditioning and refrigeration systems and produces automotive air-condition systems.

In the Franklin plant's three final assembly lines of turbochargers, automated production lines identical to those at MHI's plants in Europe and China will be installed in order to secure globally unified quality. For parts management, tags featuring 2-dimensional barcodes will be used to enhance traceability. The newly outfitted plant will commence operation with an annual production capacity of 600,000 units, to be subsequently increased to at least 1,200,000 units. The core parts of turbochargers, known as cartridges, will be supplied from Mitsubishi Turbocharger Asia Co., Ltd. (MTA), a wholly owned Thai production base, and the company's other turbocharger production bases. At the Franklin plant, finished turbochargers will be assembled using cartridges and housing cases etc.

Until recently demand for turbochargers was modest in the North American auto market owing to the popularity of comparatively large gasoline engines. But now demand for turbochargers for small gasoline engines is increasing to meet demand from energy-conscious customers wanting to cope with tight fuel regulations such as Corporate Average Fuel Efficiency (CAFE) standard. The company looks to pursue shorter delivery times while simultaneously enhancing the quality and cost competitiveness of its products.

With the addition of the U.S. turbocharger production plant to its production bases in Europe and Asia, MHI will establish a structure enabling turbocharger final assembly in three major automobile markets. As the company is targeting annual sales of 10 million turbochargers and a 30% global share by fiscal 2016 (ending March 31, 2017), marketing activities are to be strengthened further and product delivery capabilities enhanced to respond dynamically to customer needs.
---
About MHI Group
Mitsubishi Heavy Industries (MHI) Group is one of the world's leading industrial groups, spanning energy, smart infrastructure, industrial machinery, aerospace and defense. MHI Group combines cutting-edge technology with deep experience to deliver innovative, integrated solutions that help to realize a carbon neutral world, improve the quality of life and ensure a safer world. For more information, please visit www.mhi.com or follow our insights and stories on spectra.mhi.com.