MHI Introduces New Series of High-rigidity Horizontal Boring Mills
With 800mm Main Spindle Stroke Extension,
Enabling Expansion of Machinable Medium-size Workpiece Range
-- New Table-type HBM Models with 130/150 mm Boring Spindle Diameters --
Tokyo, December 3, 2012 – Mitsubishi Heavy Industries, Ltd. (MHI) has developed a new series of table-type horizontal boring mills, known as the "MAF-E Series," targeting applications in the machining of parts used in various industrial fields, including construction machinery, heavy-duty vehicles, power generation systems and decelerators. The company today launched two models: the MAF130E and MAF150E featuring boring spindle diameters of 130 and 150 millimeters (mm), respectively. Both machines have an 800mm extendable spindle stroke, the longest among the same class for medium-size workpiece machining, thereby expanding the range of machinable medium-size workpieces. The new offerings also achieve high-speed, high-accuracy machining through their enhanced structural rigidity.
The MAF-E Series, being aimed at the medium-size workpiece machining market, is designed to fill the gap between the company's MAF-C Series, which are floor-type horizontal boring machines that provide outstanding performance and flexibility for cutting large-size workpieces, and its existing MHT Series, table-type horizontal boring machines featuring superior operability suited to small workpiece machining. The MAF-E Series was developed to offer the advantages of both of those system lineups in order to realize economically efficient machining of medium-size workpieces, a task that has conventionally been performed using costly floor-type machines.

By increasing the main spindle stroke extension upto 800mm, the new MAF-E Series units enable deep boring not possible with convertional machines. The main spindle features motor outputs of 30/37 (continuous/30 minutes rated) kW (kilowatts), maximum torque of 2,441/3,011 (ditto) Nm (newton meters), spindle rotation speed of max 3,000rpm (revolutions per minute) and a feed rate of 15m (meters) per minute.

To achieve high rigidity, major structures are cast-iron and designed to perform stable machining in both heavy and high-speed cutting applications employing 3D FEM analysis. For all sliding surfaces – X-axis (table travel), B-axis (rotation), Y-axis (main spindle travel) and Z-axis (column travel) – high-rigidity, maintenance-free hydrostatic guide surfaces are adopted. As a result, both static and dynamic rigidity (resistance to vibration) have been enhanced by 20%. By minimizing droop (deflection) even when the main spindle is extended, the MAF-E Series machines achieve the highest level of high-speed, heavy-cutting performance in their class.

Three table sizes are available for medium-size workpiece machining, the largest accommodating workpieces weighing up to 20 tons. All units are equipped with operator-friendly on-screen functions such as instructions for performing maintenance, trouble recovery support, and easy centering during workpiece setup. The machines also have a remote monitoring maintenance service function that enables prompt servicing when an irregularity is detected through monitoring of machine conditions at MHI's service center. Other operability enhancing features include an automatic right angle head change mechanism enabling adjustment of the main spindle angle.

MHI expects robust demand for the MAF-E Series for use at various production worksites as a high-efficiency horizontal boring mill applicable to a broad variety of medium-size workpieces, including small-lot wide-variation type production. Anticipated applications include structural components of heavy-duty vehicles such as construction machinery and trucks: for example, hydraulic excavator mainframes, reduction gearboxes, and major components of extruders and hydraulic presses.

MHI has a broad portfolio of machine tool products suited to machining of diverse parts and production conditions. With the addition of the new MAF-E Series, the company has now expanded its product lineup further, enabling precise accommodation of various vertical and horizontal machining needs involving workpieces in a wide array of sizes.

Major Specifications of MAF130E / MAF150E Table-type Horizontal Boring Mills

Boring spindle diameter:
MAF130E: Φ130mm, MAF150E: Φ150mm
Spindle rotation speed:
6–3,000 revolutions per minute (rpm)
Spindle motor output:
30 / 37kW (continuous / 30 minutes rated)
37 / 45kW (ditto): optional
Maximum spindle torque:
2,441/3,011Nm (newton meters) (continuous / 30 minutes rated)
Stroke:
X-axis (table, crossfeed):
3,000mm (3,500mm, 4,000mm: optional)
Y-axis (spindle head, vertical):
2,000mm (2,500mm, 3,000mm: optional)
Z-axis (column, longitudinal):
1,500mm (2,000mm: optional)
W-axis (boring spindle, extension):
800mm
Rapid traverse rate:
X-, Y- and Z-axis:
15,000mm/min (2,000mm/min: optional)
W-axis:
10,000mm/min
B-axis (table rotation):
720mm/min
Table size:
1,800 x 2,000 / 2,000 x 2,200/ 2,000 x 2,500mm
Maximum table loading weight of workpiece:  15,000 kilograms (kg), (20,000kg: optional)
Machine size:
      Width :
7,150mm (minimum)
      Length:
7,080mm (minimum)
      Height:
4,690 mm (minimum)
Machine weight:
32,500 kg (MAF130E/1820 with standard spec.)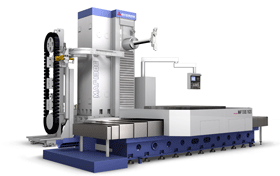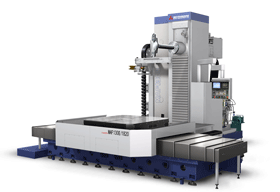 [Table -type horizontal boring mills MAF-E Series]
---
About MHI Group
Mitsubishi Heavy Industries (MHI) Group is one of the world's leading industrial groups, spanning energy, smart infrastructure, industrial machinery, aerospace and defense. MHI Group combines cutting-edge technology with deep experience to deliver innovative, integrated solutions that help to realize a carbon neutral world, improve the quality of life and ensure a safer world. For more information, please visit www.mhi.com or follow our insights and stories on spectra.mhi.com.