MHI Convenes "5th MHI Business Partners Conference"
Attended by 300 Suppliers
Aiming Towards Strengthening Partnerships as a Method of Enhancing
"Manufacturing Power" throughout the Value Chain
Tokyo, November 22, 2012 - Today Mitsubishi Heavy Industries, Ltd. (MHI) held its 5th MHI Business Partners Conference in Tokyo, attended by 300 Partner Suppliers. The meeting served to affirm MHI's commitment to enhance the "Manufacturing Power" of its total value chain as a way of enabling the company to play an important role in the revitalization of Japan through strengthened partners with its key Suppliers. MHI used the occasion to provide its principal Business Partners with an overview of its initiatives in areas such as business scale expansion and development of business opportunities in emerging economies. The proceedings also included a panel discussion as well as the introduction of examples of improvements achieved to date by company Suppliers.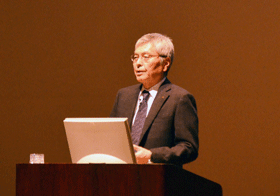 The aim of the MHI Business Partners Conferences is for company executives to convey, firsthand, MHI's business plans, core policies, procurement policies, etc., as a way of further strengthening the company's relationships with its Suppliers for the benefit of all concerned.

Today's Conference opened with an address by MHI President and CEO Hideaki Omiya on the company's business strategies. He discussed the targets of the 2012 Medium-Term Business Plan, a comprehensive three-year plan launched this fiscal year, and explained MHI's strategies for achieving the company's next goal: to become a robust earnings-generating entity with a business scale of 5 trillion yen. At a time when Japanese society and the country's manufacturing industries are widely seen as lacking forward momentum, Mr. Omiya spoke of his determination to contribute, in tandem with the company's Business Partners, to the nation's revitalization as a technologically sustained world-class force, and he asked for their renewed understanding and cooperation.

For the first time, the conference incorporated a panel discussion. This forum focused on the theme of Japan as a country sustained by technology, and it brought together members of MHI's executive rank, including Mr. Omiya, and upper echelon representatives of three Supplier firms. They discussed and shared their views on such issues as how to respond to globalization and global developments in manufacturing technology.

MHI's 2012 Medium-Term Business Plan has set two overriding targets: expansion of the company's business scale and improvement of both capital efficiency and net income levels. To achieve those aims the company has formulated strategies including consolidation and restructuring of its business segments, acceleration of the company's global expansion, and the institution of corporate reforms and efficiency improvements. To apply these strategies in the area of procurement, the company is striving to expand overseas purchasing and increase integrated procurement; also, it is working to strengthen activities to determine areas in need of improvement from the Suppliers' perspective. Examples in which such initiatives have already produced noteworthy results were introduced at the Conference.

The MHI Business Partners Conferences have been held annually since 2008. Going forward MHI will continue to forge increasingly stronger relationships with its Business Partners in its ongoing quest to achieve a dynamic and resilient corporate structure that will enable the company to survive and maintain an edge over its competition in today's rapidly changing business environment.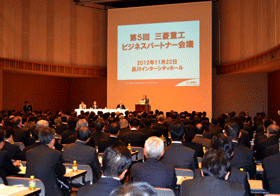 ---