MHI Starts Distribution of IR Information to Smartphones
and Tablets in Quest to Diversify Ways of Communicating
with Investors
-- New Initiative Begins with "Annual Report 2012" --
Tokyo, November 12, 2012 - Mitsubishi Heavy Industries, Ltd. (MHI) has launched distribution of its investor relations (IR) information via smartphones and tablet computers. The move is aimed at expanding opportunities for investment into the company through diversification of ways of communicating with investors. To start, the company has prepared an application enabling users to read its "Annual Report 2012" on iPhones and iPads. Going forward, the company intends to expand both the choice of applicable terminals and the range of IR information accessible.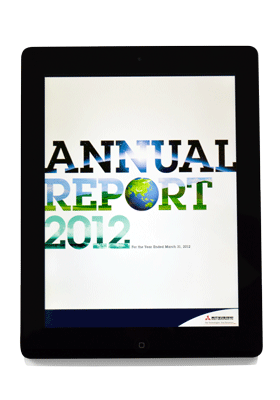 The "Annual Report 2012," available in both Japanese- and English-language versions, features a wide array of information including: the company's financial data for the term, an interview with MHI President Hideaki Omiya, an overview of the company's 2012 Medium-Term Business Plan - a 3-year initiative launched in fiscal 2012 - and articles on the MHI Group's main topics of the year under review. The Annual Report offers readers quick and easy access to a profile of the company and its business activities.

Users of Apple Incorporated's iPhone or iPad can now download MHI's Annual Report application, with great simplicity, through the App Store operated by Apple for users of its various information terminals. A variety of features available in the downloaded format enable the reader to obtain a deeper understanding of the content: for example, thumbnail displays of lists of selectable files or images, and with the iPad, a handy notepad, underlining, marking of important content, and other features that enable the user to perform quick searches and add markings or insert written notes on-screen.

Today MHI is exploring a wide variety of new ways to provide its institutional and individual investors, both domestic and global, with a deeper understanding of the company. Besides disclosing information via its Annual Report, the company is also pursuing IR communications with both types of investor through the convening of information sessions of various kinds. Specifically, for institutional investors and analysts, the company offers factory tours and information sessions introducing its strategies and strengths in each of its business areas. For individual investors, more than 10 times a year the company convenes information sessions in tandem with visits to M's Square, its showroom located within its Head Office building, or to the Mitsubishi Minatomirai Industrial Museum in Yokohama, a facility introducing the company's state-of-the-art technologies and products. Other information sessions are convened online using the Internet, and the company also places advertisements in investment information magazines. In these and other ways, the company is pursuing ever greater diversity in its communication methods.

Now, by providing IR information via p smartphones and tablet computers that users can carry around with them effortlessly, MHI offers users access to company information without constraints of time or place.

Going forward, the company will continue to enhance its information contents and to diversify its communication methods in its quest to seek ever broader contact with investors.
Application Overview

 Title

"MHI Annual Report 2012"

 Price

 Free

 Category

 Business

 Applicable devices

 iPod Touch, iPhone 3GS, iPhone 4, iPhone 4S, iPhone 5, iPad, iPad 2,
 newer models of iPad

 Applicable OS

 iPod Touch /iPhone: iOS 3.0 or later, iPad: iOS 3.2 or later

 How to use

 Download the "MHI Annual Report 2012" application at App Store
Note: iPhone, iPad, iPod touch and App Store are registered trademarks of Apple Inc. in the United States and other countries. In Japan, iPhone trademark is used under the license from Aiphone Co., Ltd. IOS is a trademark or registered trademark of Cisco in the U.S. and other countries and is used under license.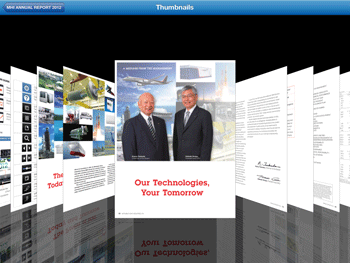 [Thumbnails]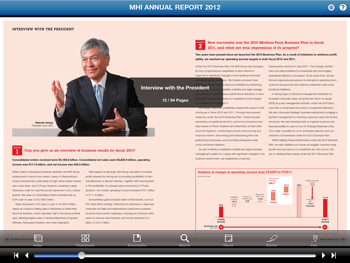 [Various functions]
Related Page
Business contact : Corprate Communication Department
---