MHI Receives Order for Steam Turbine and Boiler
For Unit 2 of O Mon 1 Thermal Power Plant in Vietnam
-- To Meet Strong Power Demand Associated with Rapid Economic Growth --
Tokyo, October 30, 2012 - Mitsubishi Heavy Industries, Ltd. (MHI) has received an order for core power generation equipment, including a steam turbine and boiler, to be installed in the 330 megawatt (MW) Unit 2 of the O Mon 1 Thermal Power Plant currently under construction by Can Tho Thermal Power Co., Ltd., a subsidiary of Vietnam Electricity (EVN). MHI received the order from a consortium formed by Japan's Sojitz Corporation and Daelim Industrial Co., Ltd. of Korea, the EPC (engineering, procurement and construction) contractor for Unit 2's construction. MHI will deliver the steam turbine to Sojitz and the boiler to Daelim. Unit 2 is slated to go on-stream in 2015.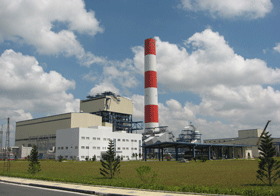 The O Mon 1 Thermal Power Plant is located along the Mekong River in southern Vietnam, approximately 20 kilometers upstream from Can Tho City. Construction of Unit 2, a project to expand the existing power plant following construction of Unit 1, for which MHI received a full-turnkey order in late 2005, is part of Vietnam's initiative to modernize the Mekong Delta region. As with Unit 1, the Japan International Cooperation Agency (JICA) will furnish yen credit to fund the construction project.

Demand for electric power has risen sharply in Vietnam with the country's rapid economic development, and as a result electricity supplies have failed to keep pace with demand. In response the Vietnamese government has been promoting swift development of power sources. Expansion of the O Mon 1 Thermal Power Plant is one of various national projects under this initiative. The steam turbine and boiler on order, key components of Unit 2, will contribute to meeting the strong power demand in the region. Mitsubishi Electric Corporation will supply the generator.

EVN is a national corporation, affiliated with Vietnam's Ministry of Industry and Trade, that oversees the generation, transmission and distribution of electricity. Daelim Industrial is one of Korea's leading construction companies.

In Vietnam large-scale projects are in an increasing trend, including infrastructure-related areas such as power plants and subway construction. To capture these newly presented business opportunities MHI has been responding in several ways, including the opening of a new representative office in Hanoi in 2006, joining its existing office in Ho Chi Minh City.

Gaining momentum from the order for the key components of Unit 2, coming on the heels of the Unit 1 full-turnkey order, MHI now looks to further strengthen its marketing activities in Vietnam in an ongoing quest to contribute to improvements in that nation's social infrastructure.
---