MHI Sponsoring Charity Musical to be Performed for Children
In the Tohoku Region Hit by the Great East Japan Earthquake
-- 900 Elementary Students to Attend "Peter Pan and Wendy" --
Tokyo, October 23, 2012 - In conjunction with its corporate social responsibility (CSR) activities, Mitsubishi Heavy Industries, Ltd. (MHI) is sponsoring performances of a charity musical in support of recovery from last year's Great East Japan Earthquake disaster. The musical, "Peter Pan and Wendy," will be performed by the Poplar Theater Company in two locations heavily impacted by the tsunami: Kesennuma City and Minamisanriku Township, both in Miyagi Prefecture. As part of MHI's corporate commitments to contribute to the disaster-affected region and to foster the development of the next generation, some 930 students and teachers from four local elementary schools will be invited to see the three scheduled musical performances.
In sponsoring this musical event in support of the Tohoku region - the second of its kind, following a series of similar performances given in November 2011 – MHI has two underlying aims: to bring cheer, through entertainment, to the lives of children in the disaster zone as a way of inspiring them to push forward with recovery, and to enrich the sensibilities of the young people who will form Japan's next generation.

MHI has provided various types of support to the disaster-affected region starting from immediately after the earthquake. The company used its own helicopter and jet to transport emergency relief supplies, for example, and it has also made financial and material donations and sent employee volunteers to give assistance. For local schools, it previously conducted science classes. Sponsorship of an annual charity musical was originally launched in 2009 targeted at elementary students within metropolitan Tokyo; the venue was shifted to Tohoku in 2011 in the wake of the earthquake/tsunami disaster.

Going forward, MHI will continue to direct its efforts into activities that reflect its CSR commitments to forge close ties with society and serve as a bridge to the next generation.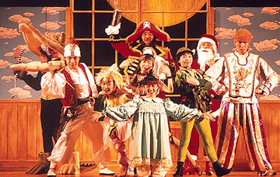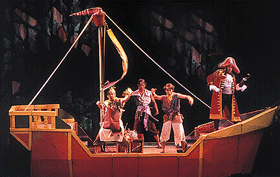 [Peter Pan & Wendy]


---
About MHI Group
Mitsubishi Heavy Industries (MHI) Group is one of the world's leading industrial groups, spanning energy, smart infrastructure, industrial machinery, aerospace and defense. MHI Group combines cutting-edge technology with deep experience to deliver innovative, integrated solutions that help to realize a carbon neutral world, improve the quality of life and ensure a safer world. For more information, please visit www.mhi.com or follow our insights and stories on spectra.mhi.com.