MHI Receives Order for 2 Next-Generation Pure Car and Truck Carriers for NYK Line, Jointly with Imabari Shipbuilding
- Designed to Achieve 30% Reduction in Fuel Consumption Per Car -
Tokyo, October 15, 2012 - Mitsubishi Heavy Industries, Ltd. (MHI), jointly with Imabari Shipbuilding Co., Ltd., has received an order to build two next-generation pure car and truck carriers (PCTC) for Nippon Yusen Kabushiki Kaisha (NYK Line). Formal contract signing will take place soon. In building the two vessels, MHI will provide Imabari with design information on PCTC incorporating advanced ship technologies, including installation of various devices and systems to reduce environmental burdens, such as the Mitsubishi Air Lubrication System (MALS). Imabari will contribute significantly to the project through its strong cost competitiveness. The newly designed car carriers will feature an over-Panamax* size hull, and their advanced energy-saving technologies are expected to enable a over 30% reduction in fuel consumption per loaded vehicle compared with existing ships. The two ships are slated for completion in 2015.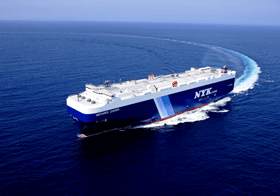 Each pure car carrier on order will be 200 meters (m) in length, 35m wide and 38m in draft, with capacity to carry approximately 7,000 vehicles. The larger ship size is being adopted in anticipation of the planned expansion of the Panama Canal, which is expected to reach completion in the autumn of 2014.

MALS is MHI's proprietary technology that reduces frictional resistance between the ship hull and seawater by introducing a layer of air bubbles blown from the ship's bottom. In addition to MALS and an electronically controlled Mitsubishi-UE marine diesel engine, the new vessels will adopt the Mitsubishi Hybrid Turbocharger, a generator-integrated hybrid MET turbocharger for marine diesel engines that utilizes exhaust gas not only to drive the turbocharger but also, using its waste heat, to generate the vessel's electric power supply while at sea. The new design will also employ an MHI windscreen at the ship's bow that reduces wind resistance from headwinds and a Mitsubishi Energy Saving Hybrid Inverter Pump (MESHIP), an inverter-controlled cooling seawater pump that enables optimized energy-saving pump operation according to the main engine's operating conditions.

Based on MHI's design concept and technologies related to energy saving, Imabari will undertake aspects from the basic design through actual ship construction. MHI will also supply various core components, including the main engines, propellers and MALS.

Even before this latest development, MHI and Imabari have already been in a fruitful collaborative relationship. In May this year, the two companies agreed to collaborate on technology relating to container ships. That initiative aims at establishing a structure to strengthen and expand the two companies' high value-added container ship businesses by effectively integrating MHI's design capabilities and Imabari's shipbuilding capacity and strong cost competitiveness. In July, MHI further agreed to license the manufacture and marketing of its deck machinery to Imabari.

MHI has adopted a long-term strategy for its shipbuilding and ocean development business to focus on high value-added vessels, such as cruise ships and next-generation LNG carriers, and to strengthen its engineering operations by providing proprietary technologies to other companies both in Japan and abroad. Imabari has been seeking to further enhance its advanced ship-related technologies, including energy-saving features. The intentions of the two companies thus meshed and led to the conclusion of the new collaborative agreement.

Gathering momentum from the selection of its design concept for NYK Line's next-generation PCTC, going forward MHI now intends to ratchet up its proposal-based marketing activities in a quest to further expand its engineering business.

Note: "Over-Panamax" refers to ships that are too large to pass through the existing Panama Canal. Panamax parameters are 294.0m in length overall (LOA), 32.3m in width and 12.0m in draft. When the canal's planned expansion is completed in 2014, the size of passable ships will increase to 366m in LOA, 49m in width and 15.2m in tropical freshwater (TFW) draft.
---
About MHI Group
Mitsubishi Heavy Industries (MHI) Group is one of the world's leading industrial groups, spanning energy, smart infrastructure, industrial machinery, aerospace and defense. MHI Group combines cutting-edge technology with deep experience to deliver innovative, integrated solutions that help to realize a carbon neutral world, improve the quality of life and ensure a safer world. For more information, please visit www.mhi.com or follow our insights and stories on spectra.mhi.com.