MHI's Savannah Machinery Works
Ships First U.S.-Manufactured Gas Turbine
-- M501GAC Gas Turbine for Dominion Group --
Tokyo, October 11, 2012 - On October 10 (U.S. time) the Savannah Machinery Works, the gas turbine manufacturing base of Mitsubishi Heavy Industries, Ltd. (MHI) in the U.S., shipped an M501GAC gas turbine, the first MHI gas turbine ever manufactured in the U.S. The unit will be delivered to Virginia Electric and Power Company (VEPCO), a subsidiary of Dominion Resources, Inc. With this event production of MHI gas turbines is poised to get on track in North America, where demand for gas turbine combined-cycle (GTCC) power generation systems is expected to increase, thereby paving the way for the Savannah base to play a core role in MHI's Power Systems business expansion.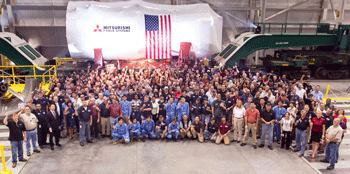 A ceremony was held at the Savannah facility to celebrate the first unit's shipment, attended by executives and stakeholders of Dominion and representatives of MHI, including Kenji Ando, Deputy Head of the Power Systems business division. The Savannah Machinery Works were constructed and are operated by Mitsubishi Power Systems Americas, Inc. (MPSA), the business base for MHI's Power Systems operations in the U.S.

The first M501GAC gas turbine produced in Savannah is to be installed at the Warren County Power Station in Front Royal, Virginia, which is being constructed and will be operated by VEPCO. The unit will serve as a core component of a GTCC power station which, when completed, will incorporate a total of three M501GAC gas turbines and a steam turbine. The remaining two gas turbines will also be shipped from the Savannah plant at a later time.

The Savannah Machinery Works engage in the manufacture of core components of gas and steam turbines and in turbine assembly. They also perform maintenance and conversion of large-size components such as rotors. An after-sale service shop for rotors and an assembly shop for gas and steam turbines have recently been completed at the site and are now in operation. A rotor manufacturing shop, currently under construction, is targeted for completion in the fall of 2013, at which time it will have advanced production lines similar to those at MHI's Takasago Machinery Works in Hyogo Prefecture, the company's main gas turbine production facility. With completion of these shops at the Savannah Machinery Works, MHI will have a combined annual production capacity of 50 gas turbines from its dual (Japan-U.S.) manufacturing structure.

Dominion is one of the U.S.'s largest producers and transporters of energy. The company has a portfolio of approximately 28,000 megawatts of power generation, 11,000 miles of natural gas transmission, gathering and storage pipelines, and 6,300 miles of electric transmission lines in the Virginia and North Carolina area.

Following receipt of the order for core equipment for the GTCC power plant at the Warren County Power Station, MHI has also received an order from VEPCO for the same units - three M501GAC gas turbines and one steam turbine - for its Brunswick County Power Station. These turbines will also be manufactured at and shipped from the Savannah Machinery Works.

The M501GAC is one of the most efficient and largest-capacity (60 hertz) gas turbines in the world. To date MHI and MPSA have received orders for over 75 units of M501G turbines worldwide, including 35 units in North America.

Today MHI is targeting a 30% share of the world gas turbine market, and the Savannah Machinery Works are part of the company's initiative toward achieving this goal. Through a dual (Japan-U.S.) manufacturing structure, the company intends to further strengthen its marketing activities for natural-gas-fired GTCC power generation systems - systems that simultaneously achieve effective utilization of energy resources and lighten environmental burdens - not just in North America but worldwide.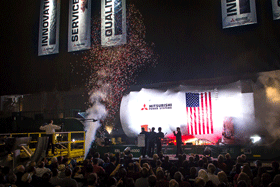 [Ceremony at Savannah Machinery Works]
 Products Page
---
About MHI Group
Mitsubishi Heavy Industries (MHI) Group is one of the world's leading industrial groups, spanning energy, smart infrastructure, industrial machinery, aerospace and defense. MHI Group combines cutting-edge technology with deep experience to deliver innovative, integrated solutions that help to realize a carbon neutral world, improve the quality of life and ensure a safer world. For more information, please visit www.mhi.com or follow our insights and stories on spectra.mhi.com.