MHI Installs MALS (Mitsubishi Air Lubrication System) on a Ferry For First Time and Verifies Over 5% Fuel Efficiency Improvement
- Sights On Expanded System Applications to High-speed, Slender Hull-form Ships -
Tokyo, October 3, 2012 - Mitsubishi Heavy Industries, Ltd. (MHI) has installed its innovative "Mitsubishi Air Lubrication System" (MALS) for the first time on a ferry - a ship with a slender hull form* - and confirmed over 5% improvement in fuel consumption. MALS is MHI's proprietary technology that reduces frictional resistance between the ship hull and seawater by introducing a layer of air bubbles blown from the ship's bottom. The verification experiment was conducted at sea using the FERRY NAMINOUE, a ship owned by Japan's A-LINE Ferry Co., Ltd. that went into service starting September 27. The experiment results have verified that MALS is also applicable to high-speed, slender ships as an effective way to reduce fuel consumption and reduce environmental burdens, further extending the range of ship types for which MALS is suited.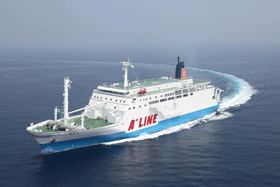 The FERRY NAMINOUE is an 8,072 gross tonnage (GT) ship 145 meters (m) in length, 24m wide, and with a designed draft of 6.2m. It was built at MHI's Shimonoseki Shipyard & Machinery Works and plies the Kagoshima-Amami-Okinawa route in southern Japan.

MHI considers development of energy-saving technology for ships to be one of its most important tasks, in order to combat global warming in the area of marine transportation. In 2010 the company installed MALS for the first time on two module carriers operated by NYK-Hinode Line, Ltd. - first the YAMATAI, then the YAMATO - and confirmed significant energy savings. To expand MALS' application range, MHI next proceeded to develop a system applicable to high-speed, slender ships, which have a comparatively smaller flat area at the ship bottom and are thereby considered technologically difficult to apply MALS effectively. Installation of the system on the FERRY NAMINOUE was realized thanks to the full cooperation extended by A-LINE Ferry Co., Ltd.

During the speed trial test at sea, fuel consumption improvement (reduction in propulsion power required) exceeding 5% was confirmed even with waves as high as 2.5-3m. These results verified reduction of frictional resistance by MALS even when installed on high-speed, slender ships. The level of fuel consumption reduction suffices to offset the fuel consumption increase such a ship's marine diesel engine requires to comply with tightened controls on NOx (nitrogen oxide) emissions. As the air bubbles function as a cushion, noise and vibration are also reduced, enabling improvements in passenger comfort.

Going forward MHI will continue to monitor the operational conditions of the FERRY NAMINOUE and verify MALS' effectiveness in both energy saving and CO2 reduction. The company expects that as a system friendly to the environment MALS will play a solid role in protecting the beautiful nature of the Amami Islands and Okinawa.

The verification experiment using the FERRY NAMINOUE was supported by ClassNK (Nippon Kaiji Kyokai) as a joint research project.

Note: A slender hull-form ship refers to a ship with relatively small block coefficient (Cb). Cb = volume of displacement divided by the volume of the block defined by a ship's length x breadth x draft. Ships with a comparatively large Cb value are known as "full hull-form ships."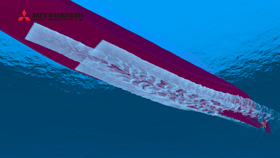 [MALS Concept Sketch: Air bubbles covering the vessel's bottom, like a carpet of air.]
---
About MHI Group
Mitsubishi Heavy Industries (MHI) Group is one of the world's leading industrial groups, spanning energy, smart infrastructure, industrial machinery, aerospace and defense. MHI Group combines cutting-edge technology with deep experience to deliver innovative, integrated solutions that help to realize a carbon neutral world, improve the quality of life and ensure a safer world. For more information, please visit www.mhi.com or follow our insights and stories on spectra.mhi.com.