Tokyo, June 29, 2012 - Mitsubishi Heavy Industries, Ltd. (MHI) has signed an agreement with Mitsui O.S.K. Lines, Ltd. to build a "Sayaendo" series new-generation liquefied natural gas (LNG) carrier. The ship offers significantly improved fuel consumption and maintainability through various features including enhanced ship structure efficiency. The ship will be used mainly for transportation of LNG for the Kansai Electric Power Co., Inc.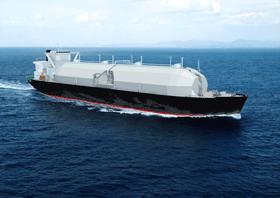 The LNG carrier measures 288.0m in length overall (LOA), 48.94m in width, and 11.55m in draft. The 138,000 gross tonnage (75,000 deadweight tonnage) ship is capable of carrying up to 153,000 m3 of LNG (cargo tank total volume: 155,000m3) using four Moss-type* tanks.

The "Sayaendo" features a peapod-shaped continuous cover for the Moss spherical tanks integrated with the ship's hull, in lieu of a conventional hemispherical cover. This configuration enables greater structural efficiency together with size and weight reductions, maintaining the ship's overall strength. The continuous cover over the tanks also improves aerodynamics by substantially reducing wind pressure, which serves as drag on ship propulsion. For its main power plant, the "Sayaendo" adopts MHI's "Ultra Steam Turbine Plant" (UST), a new turbine plant which achieves higher thermal efficiency through effective use of thermal energy by reheating steam. The new unit, in combination with downsizing, weight reduction and hull line improvement, enables the "Sayaendo" to achieve a substantial 25% reduction in fuel consumption compared to conventional ships.

In conventional carriers, pipes, wires and catwalks atop the tanks have been supported by complex structures. By covering the tanks with an integrated cover and making those supporting structures unnecessary, the new design improves maintainability. CO2 emissions are also reduced as a result of lower fuel consumption, and responsiveness to environmental issues is further enhanced with installation of a ballast water treatment system, addressing impact on the marine ecosystem.

Given the current trend toward adoption of international marine transportation rules for reducing environmental burdens, coupled with continuing fuel price escalation, demand and expectations for more energy-efficient "eco-ships" have been increasing significantly. MHI places eco-ships, including the energy-saving, highly environmentally responsive "Sayaendo" LNG carriers, among the key high-value-added products which the company's Shipbuilding & Ocean Development business sector is focusing on with the aim of expanding its lineup. Gaining momentum from the latest order for the "Sayaendo," MHI will continue its aggressive pursuit of activities in eco-ship development and proposal-based marketing, including overseas market.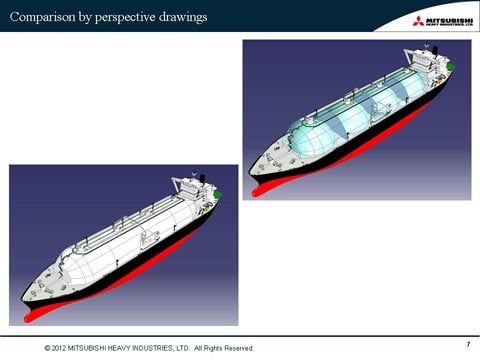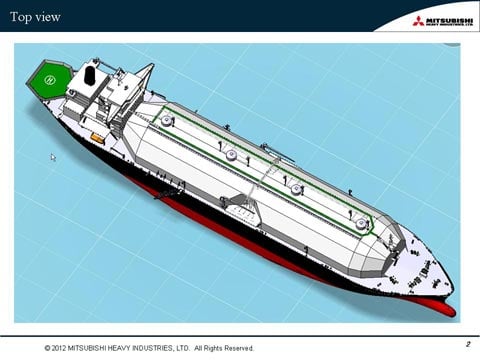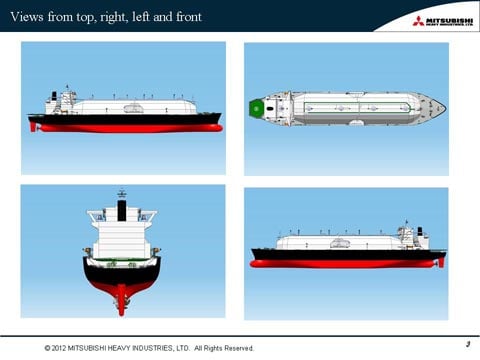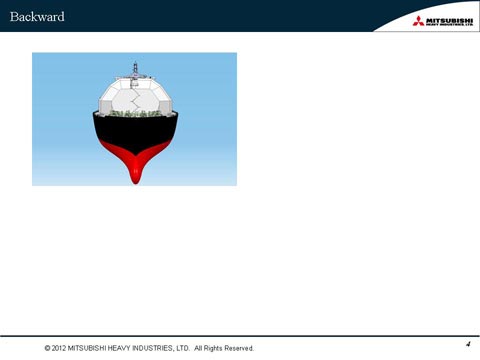 ---
About MHI Group
Mitsubishi Heavy Industries (MHI) Group is one of the world's leading industrial groups, spanning energy, smart infrastructure, industrial machinery, aerospace and defense. MHI Group combines cutting-edge technology with deep experience to deliver innovative, integrated solutions that help to realize a carbon neutral world, improve the quality of life and ensure a safer world. For more information, please visit www.mhi.com or follow our insights and stories on spectra.mhi.com.