CBC Indústrias Pesadas, MHI Subsidiary in Brazil, Receives Order
For Biomass-fired Boiler from Country's Largest Pulp Manufacturer
-- Contribution to Utilization of Renewable Energy --
Tokyo, June 13, 2012 - CBC Indústrias Pesadas S.A. (CBC), a wholly owned Brazilian subsidiary of Mitsubishi Heavy Industries, Ltd. (MHI), has received a turnkey order for a high-capacity, high-performance biomass-fired boiler from Suzano Papel e Celulose, the largest pulp maker in Brazil. The boiler will be installed at Suzano's Mucuri (Bahia) plant, one of its biggest, where it will play a key role as the power and heat source indispensable to pulp production. Delivery of the boiler is slated for early 2014.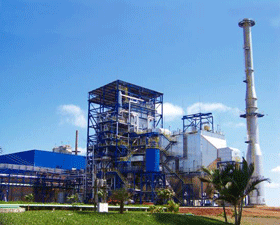 The boiler on order, which is specifically designed for biomass firing, has an evaporation capacity of 120 tons of steam per hour (rated). The boiler adopts CBC's proprietary bubbling fluidized bed (BFB) technology and enables high-efficiency combustion of biomass (woody) fuel components produced in association with pulp production: e.g., timber from forest thinning, bark and scrap wood. The order calls for CBC to supply not only the boiler but also peripheral equipment, including the combustion system and electrostatic precipitator. CBC will also handle transportation of the boiler and equipment, dispatch of instructors and test operation.

Brazil has the world's second-largest forest area after Russia. Benefitting from weather conditions supremely conducive to a high ratio of forest reproduction, the country has become a major producer of pulp, the raw material used to make paper.

CBC, which is based in Jundiai (Sao Paulo), is Brazil's largest boiler manufacturer. The company began production and supply of boilers in 1957. The boiler on order from Suzano will be its 101st unit in production. In recent years CBC has delivered many high-capacity, high-performance biomass boilers to the pulp and petrochemical industries, some with capacity to produce 150 tons of steam per hour. As a result of its outstanding track record in boiler deliveries - and their superlative performance – CBC has earned high credibility in the Brazilian market, a circumstance that the company believes resulted in the latest order.

Going forward CBC will continue to promote renewable energy utilization while simultaneously responding closely to the demands and requests of its customers.

From June 13 through 24, MHI introduces its diverse business operations and products contributing to the realization of a low-carbon society at the Rio+20 Japan Pavilion, a side event of Rio+20, the United Nations Conference on Sustainable Development to take place in Rio de Janeiro from June 20. Through the exhibition MHI intends to proactively propose and promote ways of reducing environmental burdens around the world.
---
About MHI Group
Mitsubishi Heavy Industries (MHI) Group is one of the world's leading industrial groups, spanning energy, smart infrastructure, industrial machinery, aerospace and defense. MHI Group combines cutting-edge technology with deep experience to deliver innovative, integrated solutions that help to realize a carbon neutral world, improve the quality of life and ensure a safer world. For more information, please visit www.mhi.com or follow our insights and stories on spectra.mhi.com.